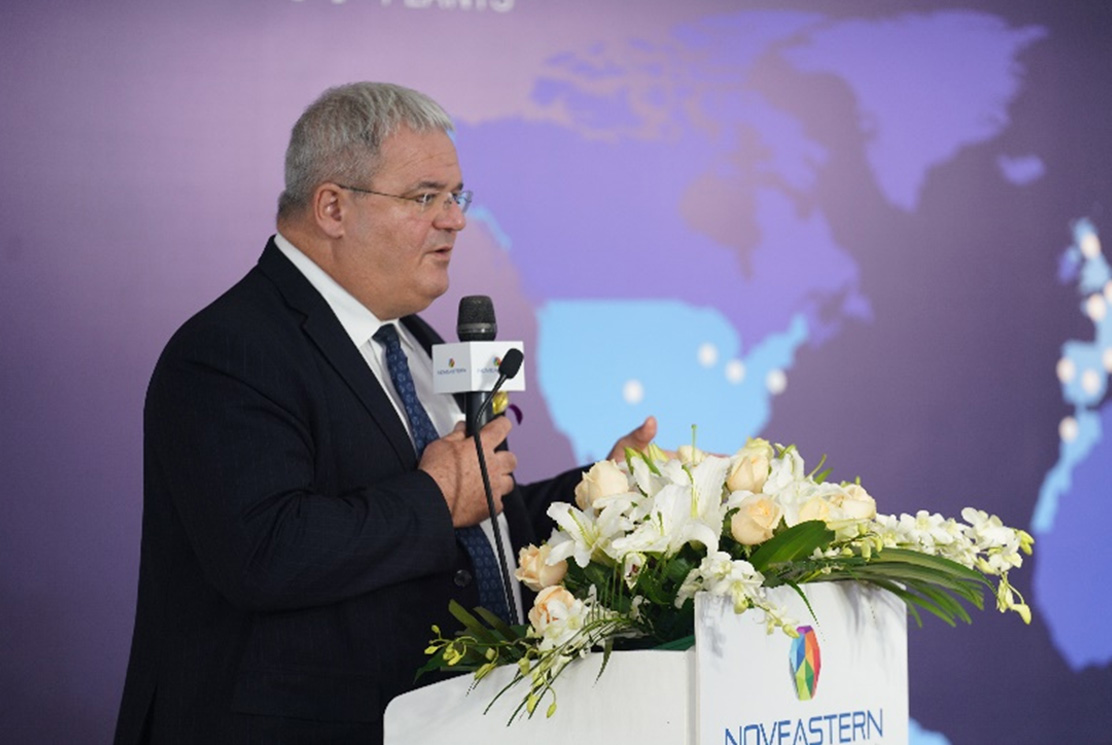 Novares Group's CEO Mr Pierre Boulet
In 2019, Oct 24th Noveastern held a meeting in its Shanghai R&D Center, strengthening its presence in China. Automotive experts, media and leading academics have been able to witness state-of-the-art technologies through the Nova Car innovation Lab.
This Thursday, a hundred guests converged their agendas to the same theme: "Winning Integration between R&D and Industrialization in French-Chinese Cooperation, Engineering for Automotive Industry 4.0".
4 renowned Experts of the automotive industry were gathered on the roundtable and shared their vision on 4 key topics: the rapid transformation of the sector through material innovation, the increasing demand for talented engineers, the interactive effect between company innovation and industrial revolution, the bridges between universities and the industry.
As Mr. Pierre Boulet mentioned it, "China is extremely important in terms of both the skilled people it has to offer, and in the pace of change in the automotive industry. Novares has innovation in its DNA and we are keen to partner China in its automotive transformation. Today's event is an opportunity for us to exchange ideas and to show some of the latest innovations we have developed, embodied in the Nova Car open innovation lab."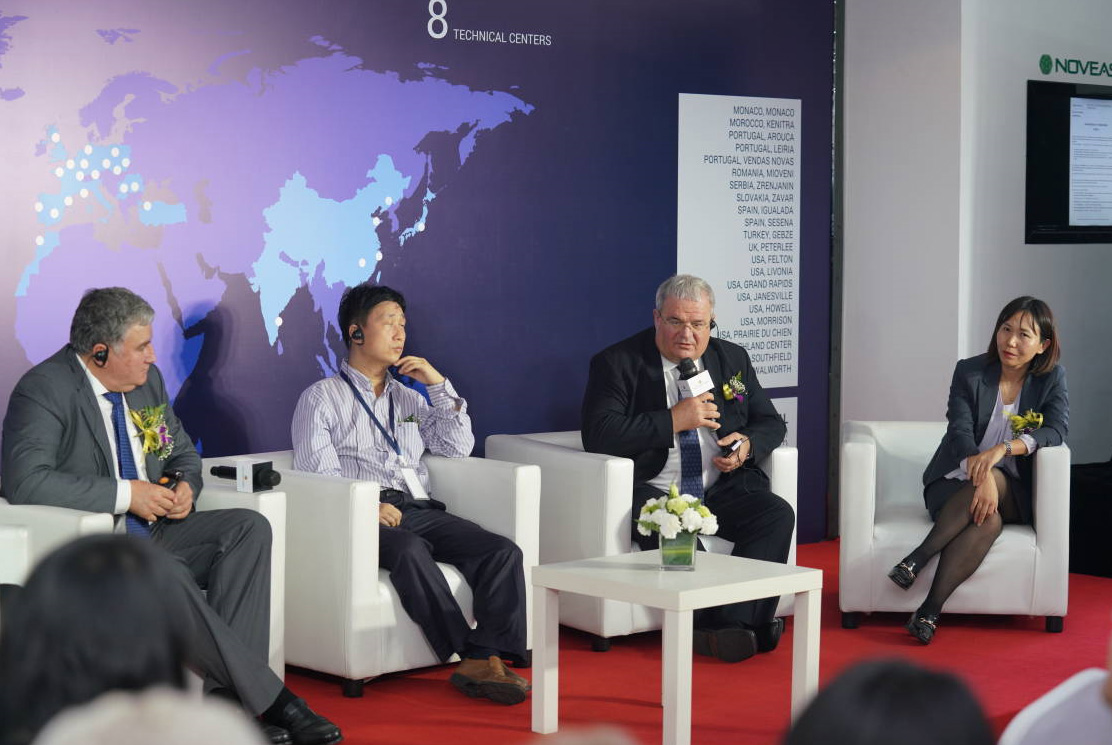 From left to right: the Dean of the French-Chinese Institute of Engineering, Sino-European University of Technology of Shanghai University (UTSEUS) Mr Marc Bondiou, the Dean of the Shanghai University of Engineering Science (SUES) Mr XING Yanfeng, Novares Group's CEO Mr Pierre Boulet and the Manager of Industry Research Department, China Automotive Technology and Research Center (CATARC) Mrs. WU Qiuli.
As the recruitment of young talents is a real stake for defining tomorrow's mobility, a number of selected Deans of faculties with some 60 of their engineering students attended the roundtable. The students enjoyed a guided visit of Noveastern's plant and labs, before taking part into a HR Q&A session with technical experts who talked about their daily work and the required skills to accompany the development of the future automotive industry.
This event was the opportunity to discover Nova Car #1, an open innovation laboratory that is especially present in China after a world tour. This demonstration vehicle, created in partnership with innovative Start-Ups and Research Centers to tackle the challenges of new mobility, autonomous cars, connectivity and green mobility, displayed more than 16 exclusive innovations.
Nova Car #1 during the event
The Chinese government and Chinese customers have sent real signals confirming China ambitioned to be pioneering clean, hybrid, and electric cars. The key role of Noveastern for the Group in China, its ability to innovate and offer an ever-evolving range of plastics components to OEM and Tier-1 companies, is an important contribution to the evolution of the automotive industry.
About Noveastern
China has become an important platform for the international development of Novares Group. With an annual turnover of €170M, Noveastern is headquartered in Shanghai and runs 7 factories and R&D centers across China, such as Wuhan, Shenyang and Yantai, to optimize logistics costs and ensure on-time delivery.
Noveastern is now able to develop and manufacture out of its 7 product lines most of the components Novares offers to its customers globally, including electronic drive system components for which the Chinese market is becoming a top client.
Its presence in China also allows Noveastern to cooperate with local OEMs and Tier 1 suppliers, like SAIC, Dongfeng and Brilliance, who are themselves in joint ventures with Western car manufacturers.