Our solutions
Our promise
Customers doing business with us will receive clear benefits.
We are one of the largest global multi-specialist plastic solutions supplier today that reliably partners with automotive OEMs and Tier-1s.
We have identified 3 key attributes that clearly differentiate our offering from competitors.
Our promise to our customers has been defined as: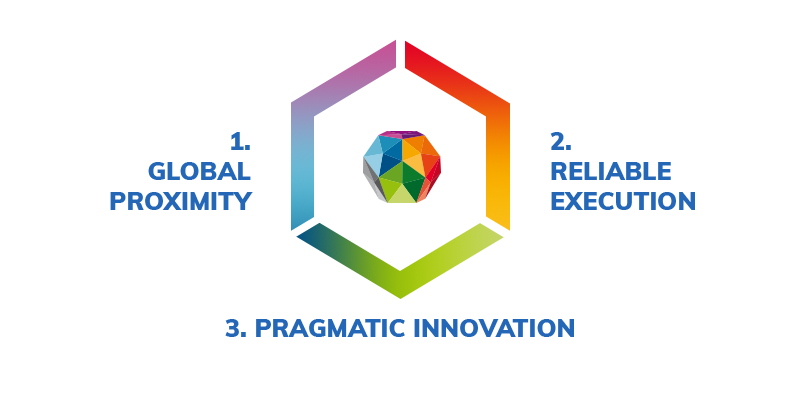 We are your global partner with local presence in 22 countries.
Novares stays close to the customers' engineering and production sites in order to optimize logistic costs and ensures on-time delivery. We are present in 22 countries with 38 production plants, 17 Customer Service Centers, 7 Skills centers, 7 Technical Centers and 15 languages spoken. Our production plants around the world deliver competitive pricing and a fast delivery turnaround time.
We are focused on the automotive sector, serving all major automotive players: not only OEMs, but also major Tier-1s and are proud to be seen as preferred partners.
You can count on us for smooth planning, operations and product development. We optimize costs, provide reliable solutions backed by a continuous quality delivered. SMART is our unique Governance System, created to address market and customers' needs, with standardized best practices and rules & tools.
Novares produces highly engineered, pragmatic components and systems that improve the lives of passengers and drivers.
We customize our products to meet growing market needs for clean, affordable, connected cars. We never stop inventing. Discover our philosophy of innovation and customer focus. We are always reinventing ourselves because we are driven by automotive passion. We are Novares. Our world is about listening to customers' needs, anticipating key trends producing unique components and systems to match.
In fact, we do much more than plastics production.
We design, create, produce unique and quality parts, components and systems that match the exact specifications of our customers.  We have an efficient production process that combines automation as well as using the 'human touch' to produce our creations. Our production formula for success has been duplicated in production sites all over the world to be close to our customer sites and to efficiently serve their growing demands.
Listed below are the main stages of what we do from the initiation stage of a production project to its final stages of delivery.