Innovation
Nova Car: an open innovation lab
We strive to offer our customers disruptive solutions that meet our vision of the car of the future with a focus on three drivers: beautiful systems integrations, unforgettable user experience and clean mobility.
Scouting partners in the DeepTech innovation ecosystem, we invent, develop and co-develop solutions that are tested and showcased in our open innovation lab: the Nova Car.
Innovation is embedded in Novares' DNA, it is contained in our group's name; it is one of the principal pathways of our development alongside our acquisition strategy which today is placing us among the world's 100 leading automotive suppliers.
For us, the boldest innovation is not merely a dream, but a project. NOVA CAR showcases our promise to our customers, presenting them with the most advanced innovations and giving them the opportunity to try, touch and experience them for themselves.
To invent the vehicle of the future, Novares scouts in the Deeptech innovation ecosystem to co-develop and invent new solutions for its customers that shift the way cars interact with passengers and their environment and are powered for greener mobility.
Explore the car of tomorrow

Speed up with Novares, open call for projects from Startups & Small Businesses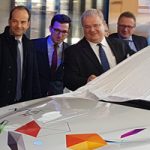 Novares Venture Capital
Novares Venture Capital is a fund dedicated to investments in startups and innovative companies to build close and durable partnerships.