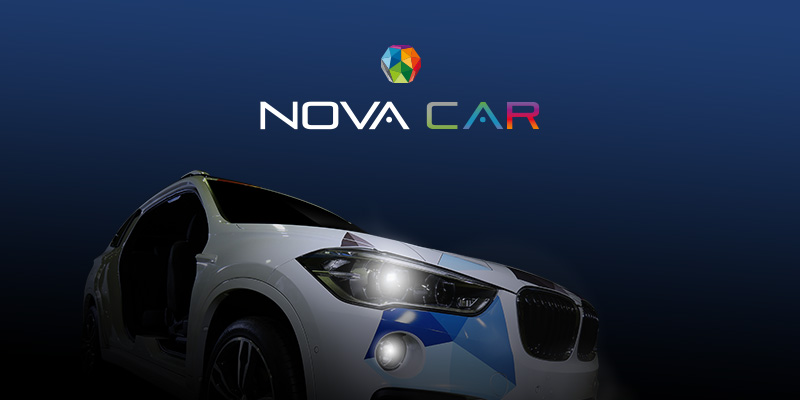 March 26th, 2018
Novares is today unveiling its third-generation Nova Car #1, incorporating 16 new innovations in seven product lines, at Station F, in Paris, France.
The demo car showcases new patented innovations to make cars cleaner, lighter, more cost effective and user-friendly with new features to enhance car automation and connectedness. Nova Car #1's innovations are also closely linked to new mobility and business models such as car leasing and sharing, as well as utilizing new powertrain techniques. Nova Car #1 allows global car manufacturers to visualize the innovations they will later incorporate into their cars.
The unveiling of the Novares third-generation demonstration car, a BMW X1 model, took place on March 26th, in the presence of Pierre Boulet, Novares CEO; Luc Dornier, Novares Group Product Development VP, Bertrand Stelandre, Design & Innovation Consultant for Novares, and Roxanne Varza, Station F Director, in Paris, at the world's biggest start-up campus "Station F".
Nova Car #1's features include more and larger displays onboard, a cockpit design for autonomous driving, the reduction of vehicle weight and air drag to reduce emissions, easy-to-use onboard set-up, 360° augmented reality features and a tuning-free driver position.
The new features are linked to 17 patents related to smart surface technologies, plastronics (plastics & electronics), as well as user friendly HMI (Human Machine Interface) and connected enhancements.
The prototype innovations draw from Novares' seven product lines, covering Engine Components, e-Powertrain, Bezels & Clusters, Air Vents & Decoration Trims, Interior & Car Body Trim, Handles, Exterior Paint & Surfaces.
The 16 innovations are:
CONNECTED & AUTONOMOUS CARS INNOVATIONS
• BirdView: smart and tiny roof bars which deliver load measurement and light communications (patented).
• Hi 5 Door: a flush door handle design with backlighting, with keyless solutions (patented).
• Hi 5 Pillar: a flush pillar made with backlighting, with integrated handles.
• FlexView: exterior revolving mirrors & camera with an integrated flexible screen for rear view (patented).
• Touch 'N Play: a short cut panel for favorite features (patented).
• Touch 'N Go: an inner handle with touch opening.
USER-FRIENDLY INNOVATIONS
• Touch 'N Feel: a sensitive touch & scroll panel with haptic feedback.
• Slim 'N Cool: an air register with hidden flush mechanisms and slim design (patented).
• Snake 'N Light: innovative mood lighting, with easy customizable design for car manufacturers.
• Silent Duct™: a porous air duct that absorbs noise (patented).
CLEAN INNOVATIONS
• Ultimate decantation: a Venturi Engine Cam Cover that improves oil separation efficiency (patented).
• Entry Box concept: a synthetic material that ensures high filtration performance for a reduced air filter cost for the engine.
• SpaceSaver Cooler: a compact plastic water-charged air cooler that reduces air temperature and CO2emissions (patented).
LIGHTER & COST EFFICIENT INNOVATIONS
• Diet MuCell®: Novares MuCell® Cam Cover concept that provides additional weight-saving benefits.
• Blacklite Carbon: an engine cover that ensures weight and noise reduction.
• Easy Valve: a degassing valve that cools down temperatures using only one engine degassing bottle, so both reducing cost and simplifying the process (patented).
Novares, an expert company in plastic injection and moulding, strives constantlyto develop value-added, innovative products.Because of its willingness to step up co-innovations with partners and start-ups, along with its deeply rooted innovation culture, size and global reach, the Group is able to quickly bring to market some of the latest automotive advances available.
"I am very proud to reveal today our Nova Car #1. As a product of our innovation culture, this demo car showcases our contribution to the future of the automotive industry, alongside our many customers. I would like to thank all my colleagues who participated in the making of Nova Car #1, but also our partners – start-ups, new technology partners and prototype integrators. They are part of the collaborative approach Novares has on innovation, a tactic that will allow us to provide more creative, pragmatic and smart solutions for our customers." says Pierre Boulet, Novares CEO.
Over the past three years, Novares has created Demo Cars (the previous models wereSMT1 and SMT2,known as "Smart Mecaplast Trends") enabling global car manufacturers to visualize and experience turnkey innovations ahead of market timing.
Novares' growth strategy through mergers and acquisitions (M&A) as well as innovation is firmly on track: Nova Car #1 is the result of both organic innovation, owing to the company's 580 dedicated research staff, many patents and 5.2% of sales spent on R&D, and its various co-innovation partnerships. In addition, its M&A strategy, designed to consolidate and reinforce its position in conventional, hybrid and e-Powertrain cars, smart surfaces; mechatronics and the Chinese market, is under way through the activities of its investment arm:Novares Venture Capital SAS.
Discover Nova Car #1!
About Novares
Mecaplast – Key Plastics rebranded as Novares on September 19th, 2017.
Novares is a global plastic solutions provider that designs and manufactures complex components & systems serving the future of the automotive industry. The company creates and produces cutting edge automotive parts and specializes in technical plastic injection that contributes to cleaner, lighter, more connected, user-friendly cars.
Novares provides engineering and manufacturing expertise to virtually every OEM and many Tier-1 companies in the automotive market. Novares' estimated 2017 revenues amount to €1.2 billion¹.
Headquartered in France, the group is present in 21 countries, runs 42 manufacturing plants, 7 Skill centers, 5 Technical centers and 17 customer service centers, around the globe to partner with customers.
¹Estimated information not derived from consolidated financial statements that has not been approved by the Company's Chairman and has not been audited by its statutory auditors.