Novares, the global automotive plastics supplier, hold its fourth Novares Venture Day where Innovative start-ups could pitch their ideas and get a chance at partnering Novares to develop a future collaboration.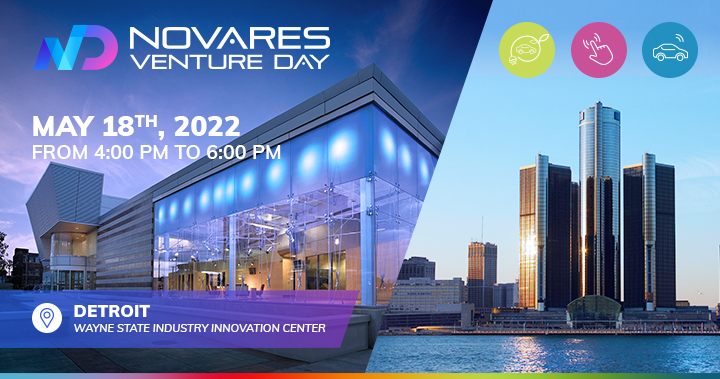 The event took place on May 18 at the Wayne State Industry Innovation Center in Detroit, Michigan, with the participation of seven start-ups and industry expert speakers. This 2022 Session was organized in partnership with Orsay Consulting, the French American Chamber of Commerce and Detroit Regional Partnership.
Kicking off at 4pm, the agenda included a roundtable discussion on the trends and challenges, in terms of interior features based on user experience, that exist in other industries and could be co-developed with start-ups in the automotive of tomorrow. Expert speakers Jessica Robinson, Co-Founder and Partner of Assembly Ventures, Jim Saber, President & CEO of NextEnergy, Marc Amblard, Managing Dir. of Orsay Consulting, have participated with Pierre Boulet, Novares CEO.
After the start-up pitches sessions, the jury, composed by Justin Robinson, Senior Vice-President of Business Development Detroit Regional Partnership, Xavier Mosquet, Senior Partner Emeritus BCG, Marie-Pierre Buron, Process and Experts Director of Novares and Luc Dornier, Vice-President Product Development of Novares, has selected the winners of the three categories – ULTRASENSE systems won the Innovation Prize, EIGEN INNOVATIONS, the Novares Prize and POWERCAST the Jury Prize.  These three new partners will start to exchange with Novares to further co-develop pragmatic innovations.
Novares Venture Day an annual event that underlines Novares' commitment to innovation. The company regularly invests in innovative start-ups and businesses via its venture capital arm Novares Venture Capital that allows to bring new ideas to build and develop its 'Open Innovation Lab' Nova Car demonstration vehicles, which show how the latest innovations operate in real-life situations.
Speaking at the ceremony, Novares CEO Pierre Boulet said: "The event is a chance to glimpse some of the most exciting innovations at the very start. Previous winners have become partners of Novares and seen their innovations transformed into useful new technologies for today's cars. Novares invests in innovation and partnering star-tups companies helps Novares to develop cutting-edge technologies for the cars of tomorrow."
About Novares
Novares group is a portfolio company of Equistone Partners Europe, with Bpifrance as second largest shareholder.
Headquartered in France, Novares is a global plastic solutions provider that designs and manufactures complex components & systems serving the future of the automotive industry. The company creates and produces cutting edge automotive solutions with technical plastic injection for cleaner, lighter, connected cars with intelligent and intuitive interfaces for all passengers.
Novares co-develops and provides engineering and manufacturing expertise to virtually every OEM and many Tier-1 companies in the automotive market. Novares' 2021 revenues amounted to €1.1 billion.
The Group is present in 22 countries, runs 41 Manufacturing Plants, 8 Skill Centers, 8 Technical Centers and 23 Customer Service Centers, around the globe to partner with customers, with Novares being Inside one out of three vehicles worldwide.