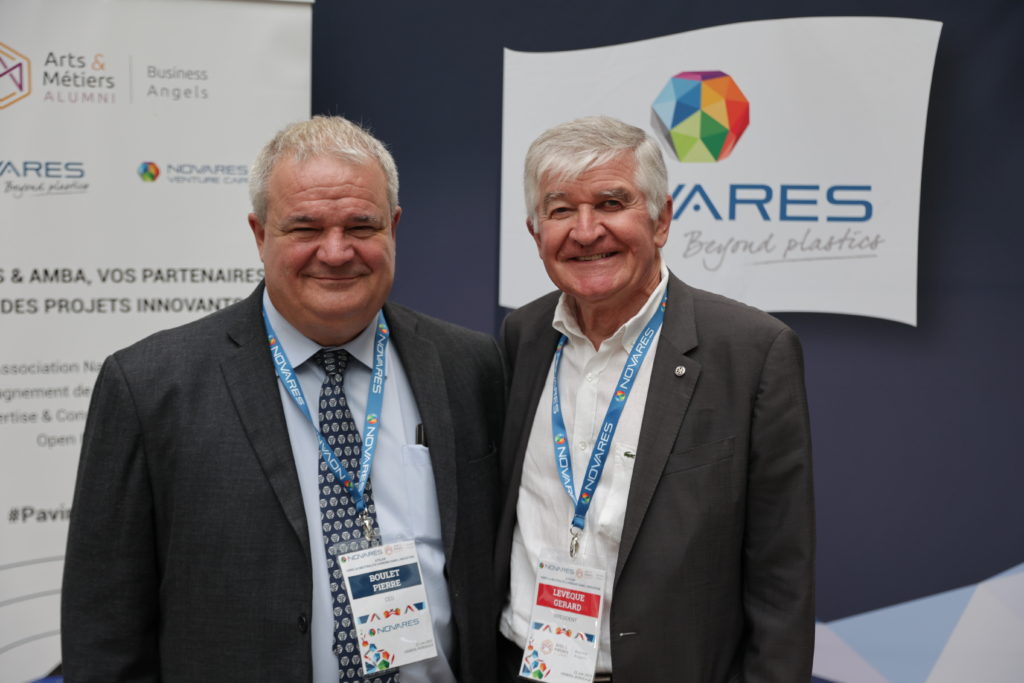 The partnership was signed in 2019 between the Arts et Métiers Business Angels (AMBA) network and the Novares Industrial Group. It has allowed us to host numerous events around the development of innovation. The latest Workshop session was held on June 22 in the Aquitaine region at Hemera, which is a start-up incubator based in Bordeaux. The theme we chose for this event was the transition to a low-carbon economy, in the face of climate change.
In accordance with its strategy, which consists in developing its innovation ecosystem with start-ups, universities, laboratories and engineering schools, Novares has decided to expand its influence in the greater South-West region, where AMBA is managed locally by Alain HENRY, a well-known materials specialist.
At 5 p.m., when the program started, the entities were introduced. This was followed by 2 start-up pitch sessions and a round-table on private and public industrial strategies meant to implement a low-carbon economy.
The challenges relating to curbing greenhouse gas emissions and the impact on plants and products were highlighted based on the Novares experience. Carbone 4 highlighted the link between a corporate strategy and a low-carbon economy. Bpifrance outlined its approach to helping companies implement their strategies.
The Novares group is currently stepping up its low-carbon economy program, which aims to reach carbon neutrality by 2050, in order to meet the challenges of climate change and to make the automotive industry more sustainable. This major transformation means we should rethink our products, manufacturing processes and supply chain, and use our experience in Open Innovation.
"Innovation is an essential component of our strategy. This partnership with AMBA further emphasises our commitment to the issue in France. While Novares provides funds and expertise, AMBA introduces us to its broad network of promising innovations. The AMBA network in the Aquitaine region helps our Group considerably expand its ecosystem with new partners who all share a common goal: transforming tomorrow's car industry with new technologies and making sure our products and activities are part of a decarbonised economy," adds Pierre Boulet, CEO of Novares.
"The dynamism of the Aquitaine region and the involvement of our regional delegation have helped AMBA members finance innovative local companies such as SELFCITY, ICOHUP, EPUR, SODIUM CYCLES, V8TE, PURENAT, EXPATEO, IMMOBLADE and NETA (a start-up which was recently sold to an American industrial group). The partnership with Novares greatly enhances our visibility and gives us access to industrial expertise. It helps attract new Business Angels and start-ups to our organisation," adds Gérard Lévêque, Chairman of Arts et Métiers Business Angels."
ABOUT NOVARES: 
Based in France, Novares is a global supplier of plastic solutions that designs and manufactures complex components and systems that serve the future of the automotive industry. The company creates and produces advanced automotive solutions with technical plastic injection for greener, lighter and connected cars with intelligent and intuitive interfaces for all passengers. Novares co-develops and provides engineering and manufacturing expertise to virtually every OEM in the world and many Tier 1 companies in the automotive market.
Novares, which is behind the construction of one in three vehicles in the world, achieved a turnover of 1.2 billion euros in 2022, thanks to its presence in 22 countries, its 38 manufacturing plants, its 7 centers of expertise, its 7 technical centers and 17 customer service centers around the world to partner with customers. 
À PROPOS DE AMBA :
Arts et Métiers Business Angels est une association sans but lucratif, loi 1901, fondée à l'origine par les ingénieurs anciens élèves d'Arts et Métiers ParisTech. Elle est ouverte à tous, notamment aux entrepreneurs qui veulent investir dans des entreprises innovantes et accompagner les porteurs de projets dans leur démarrage, en leur apportant leur expérience d'ingénieur, de dirigeant, de cadre généraliste et leur réseau d'expertise.
Depuis sa création, Arts et Métiers Business Angels, qui compte plus de 120 membres actifs, a permis de financer plus de 130 jeunes entreprises, en 180 levées de fonds, pour un montant cumulé de plus de 14 millions d'€ (données mars 2023).