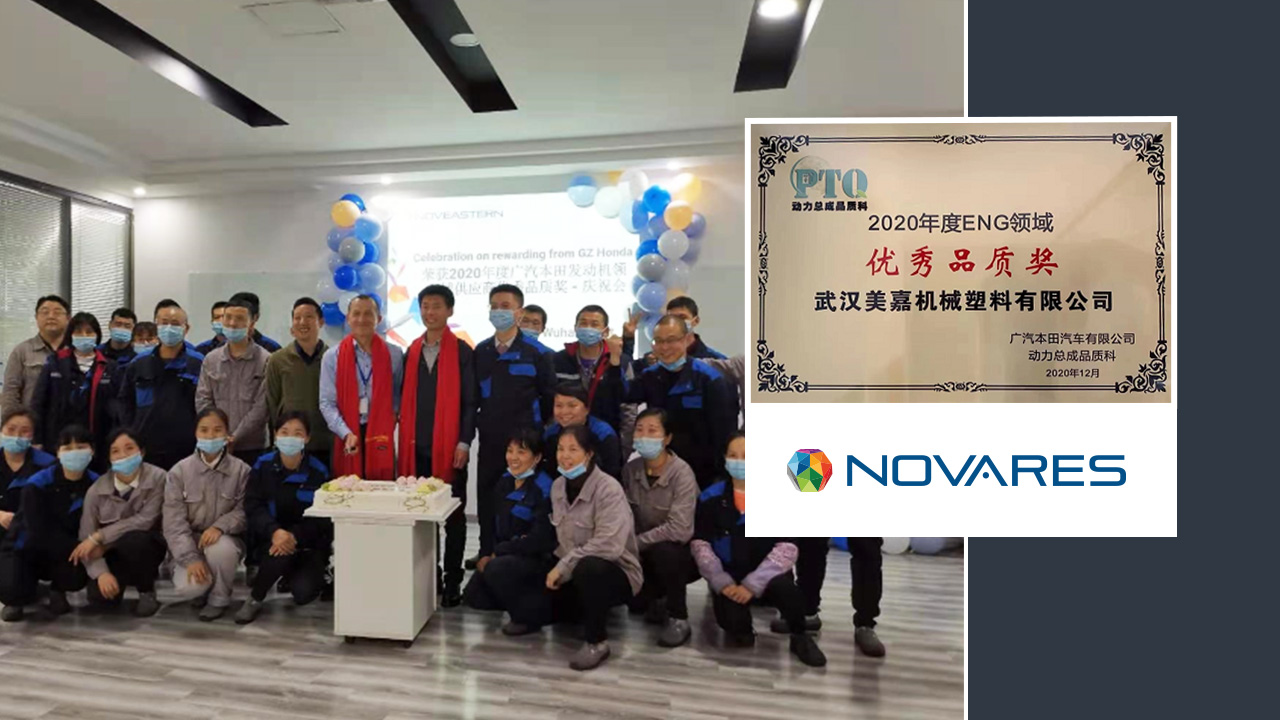 April 20, 2021
The Novares plant in Wuhan has won an excellent quality award from its customer, Honda Guangqi (GAC-Honda), for its flawless production and delivery of engine parts in spite of the Covid-19 outbreak.
Novares Wuhan succeeded in the product preparation phase in the first half of 2020 for the cam cover piece and in efficiently moving to mass production in the second half of the year and introducing robust quality assurance procedures to achieve a zero parts-per-million defect rate.
Jianglong Niu, from GAC-Honda's quality team, visited the plant to present Novares with the award at a ceremony on March 18.
Novares produces between 8,000 and 12,000 cam cover engine parts for Honda in Guangzhou every month, which is installed on the Honda FIT model.
Pierre Boulet, Novares CEO said: "The whole world knows how the outbreak of Covid-19 affected Wuhan at the start of last year, so it is testament to the team's hard work and dedication that they were able to prepare for production of the new product at this time and to introduce the necessary quality assurance processes to ensure we delivered a quality product to Honda."
About Novares
Novares group is a portfolio company of Equistone Partners Europe, with BPI France as second largest shareholder.
Headquartered in France, Novares is a global plastic solutions provider that designs and manufactures complex components & systems serving the future of the automotive industry. The company creates and produces cutting edge automotive solutions with technical plastic injection for cleaner, lighter, connected, cars with intelligent and intuitive interfaces for all passengers.
Novares co-develops and provides engineering and manufacturing expertise to virtually every OEM and many Tier-1 companies in the automotive market. Novares' 2020 revenues amounted to €1 billion.
The Group is present in 23 countries, runs 42 Manufacturing Plants, 8 Skill Centers, 8 Technical Centers and 23 Customer Service Centers, around the globe to partner with customers.