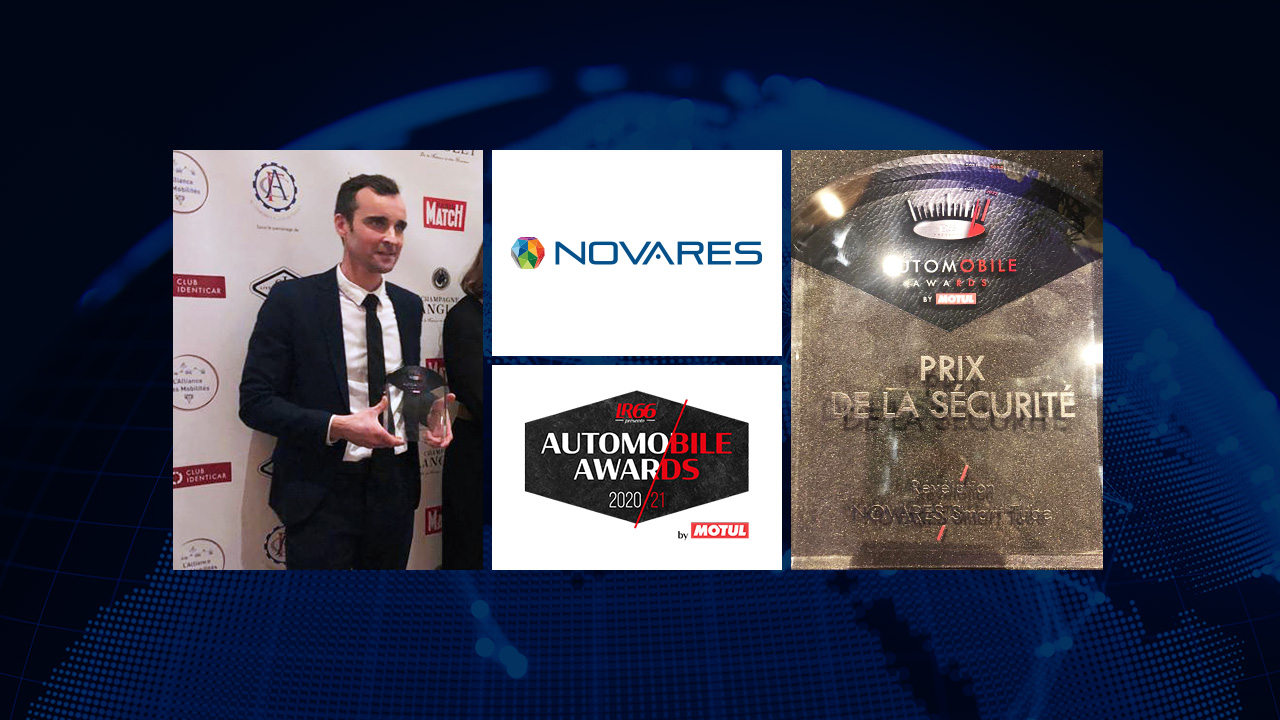 December 10, 2021
Automotive supplier Novares received the Newcomer Safety Award for its Smart Tube innovation at the Automobile Awards Ceremony, held by Motul on 9 December.
Designed in partnership with Tribosonics, this innovation formed of plastic and "smart" components warns users of leaks and accidental disconnections.
In order to keep pace with the development of electric mobility, the Novares R&D teams have been working tirelessly on innovations to make electric vehicles lighter and greener. This smart connector technology results from a collaborative effort between Novares and Tribosonics, a company specialising in sensors that won the Jury Award at Novares Venture Day in 2019. With Smart Tube, Novares has once again proven that partnerships formed with startups and small companies specialising in cutting-edge technologies can produce increasingly innovative solutions better adapted to the cars of tomorrow.
The tube's components take on the role of sensors in order to avoid system malfunctions. Safety problems linked to fluid leaks and accidental disconnections can also be avoided. The "smart" components of the Smart Tube are designed to detect anomalies and this guarantee flawless vehicle assembly, in accordance with regulations and restrictions currently imposed on electric vehicles. At the same time, Smart Tube maintains vehicle performance and guards against environmental pollution, thereby paving the way for a safer and more ecological future.
"Novares specialises in the manufacture of plastic components and smart systems and we strive to provide our clients in the automotive sector with solutions that meet their growing terms of electric motors. We are thrilled that this innovation has drawn the attention of industry professionals", said Pierre Boulet, CEO of Novares.
About Novares
Novares group is a portfolio company of Equistone Partners Europe, with Bpifrance as second largest shareholder.
Headquartered in France, Novares is a global plastic solutions provider that designs and manufactures complex components & systems serving the future of the automotive industry. The company creates and produces cutting edge automotive solutions with technical plastic injection for cleaner, lighter, connected, cars with intelligent and intuitive interfaces for all passengers.
Novares co-develops and provides engineering and manufacturing expertise to virtually every OEM and many Tier-1 companies in the automotive market. Novares' 2020 revenues amounted to €1 billion.
The Group is present in 23 countries, runs 42 Manufacturing Plants, 8 Skill Centers, 8 Technical Centers and 23 Customer Service Centers, around the globe to partner with customers, with one out of three vehicles worldwide containing Novares Inside products.