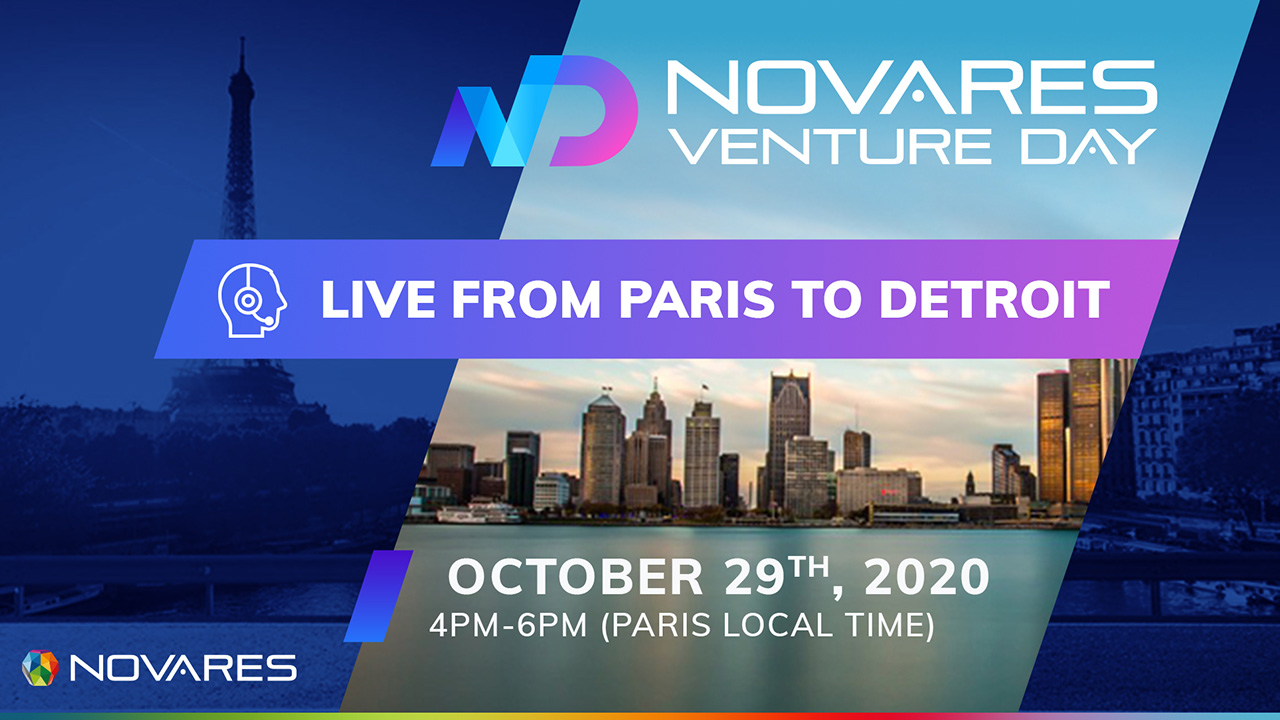 October 29, 2020
Automotive equipment supplier Novares held its second Novares Venture Day on October 29, inviting eight innovative startup companies to pitch their ideas to an expert jury and audience, with award winners in with a chance of investment and partnership with the company to develop technologies that will be incorporated into the car of tomorrow.
This second Novares Venture Day, 100% digital and followed online by a large audience, presented eight start-ups and their work in front of a jury of experts made up of members of the Novares group and professionals from the world of innovation. The event highlighted cutting-edge innovations on the themes of green mobility, intuitive and safe interface, as well as health, well-being, safety or comfort. The day was also an occasion to hear from a panel of expert speakers discussing the latest themes in passenger comfort and safety, with Novares CEO Pierre Boulet, Actronika CEO Gilles Meyer and Claude Leïchlé, Arts & Métiers Business Angels Vice-President.
Anteneo won the jury prize. Anteneo is a CEA Tech start-up that designs ultra-precise compact antennas using GNSS (geolocation by satellite) technology.
Nanomade and Kapflex were both awarded the Novares prize, selected by a jury comprising Sophie Tran-Dinh, Head of Strategic Partnerships Manager at CEA Tech; Philippe Laroche, Arts & Métiers Acceleration Board Member; Christophe Cazes, Head of Innovation of Novares; and Marie-Pierre Buron, Process and Experts Director of Novares.
Nanomade is a Toulouse-based start-up that provides high added-value tactile and force sensor solutions for the automotive industry, particularly in the design of tactile dashboards. Kapflex is fast becoming a leading supplier of IoT sensors and revolutionizing industry 4.0, enabling the development of a business model for the manufacture of smart plastics and providing a cost-effective solution in all markets where fluid management is essential.
The event is part of Novares' ongoing commitment to innovation. The company regularly invests in and partners innovative startups and small businesses via its venture capital arm Novares Venture Capital. It also produces its 'open innovation lab' Nova Car demonstration vehicle, which showcases the latest innovations, all installed in one vehicle. The next Nova Car – Nova Car #3 – will be revealed middle of next year.
"We have chosen to reward these three start-ups because their innovations can provide real prospects for our market. The Novares Venture Day is an exciting event, both for start-ups and for our Group. This is an opportunity for our experts to identify innovations that could transform the automotive industry, and consider how they could be applied to our sector, serving the users of the cars of tomorrow. We are constantly investing in innovation, which is a differentiating factor for the Group," said Pierre Boulet, Novares CEO."
About Novares
Novares group is a portfolio company of Equistone Partners Europe, with BPI France as second largest shareholder.
Headquartered in France, Novares is a global plastic solutions provider that designs and manufactures complex components & systems serving the future of the automotive industry. The company creates and produces cutting edge automotive solutions with technical plastic injection for cleaner, lighter, connected, cars with intelligent and intuitive interfaces for all passengers.
Novares co-develops and provides engineering and manufacturing expertise to virtually every OEM and many Tier-1 companies in the automotive market. Following MPC integration, Novares' 2019 revenues amounted to €1.3 billion. The Group is present in 23 countries, runs 43 Manufacturing Plants, 8 Skill Centers, 10 Technical Centers and 22 Customer Service Centers, around the globe to partner with customers.