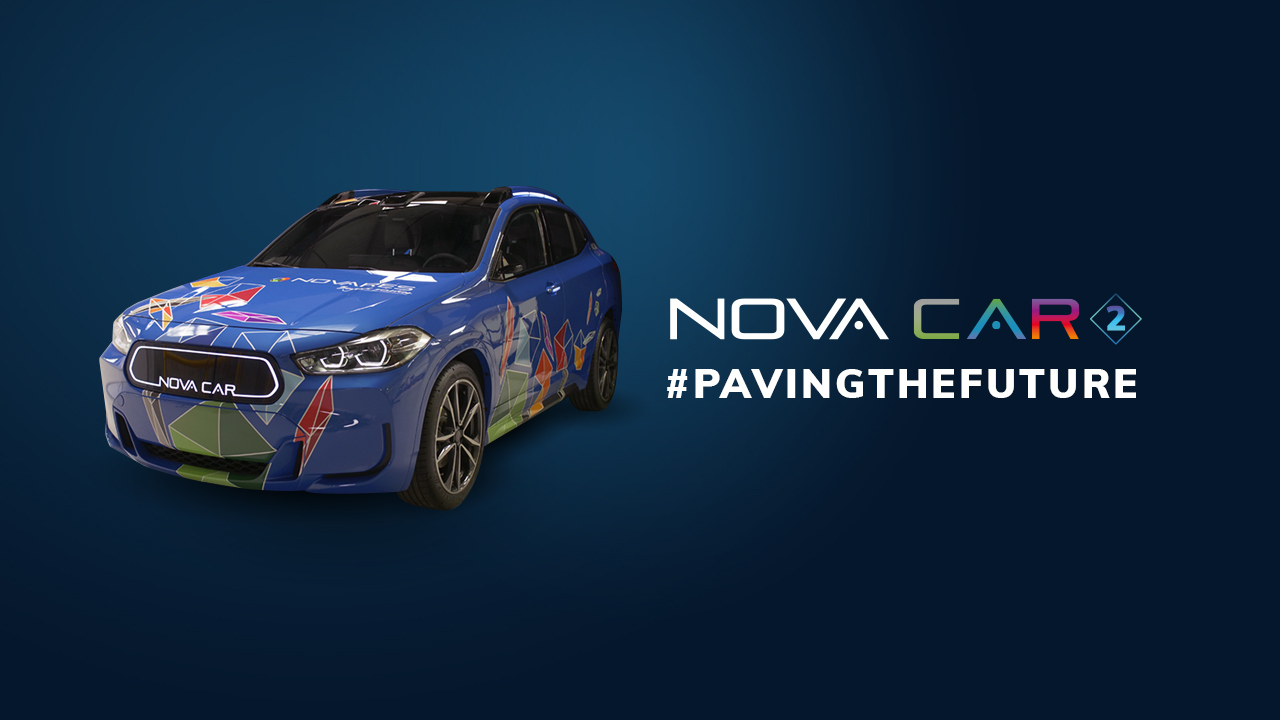 June 25th, 2019
Following the success of the Nova Car #1, which toured the world in 2018 to showcase its latest innovations to its customers, the Novares Group today unveils Nova Car #2, its open innovation lab. The demonstration vehicle brings together 24 innovations co-developed with start-ups and innovative companies.
The Nova Car #2, unveiled in Paris today, brings together the latest Novares innovations co-developed with start-ups and innovative companies to meet the challenges of new mobility, autonomous cars, connectivity and green mobility.
Highlights of the innovations demonstrated in Nova Car #2 are FlexView Max, a giant 3D curved and tactile display with haptic feedback, perfectly integrated into the cockpit design and with an advanced user interface, Scroll'N Feel, which offers several tactile functions with a single smart button – two innovations that enable drivers to avoid taking their eyes off the road – Smart Breeze an invisible, intelligent air flow device which adapts automatically to each passenger, Squeeze command, a door command with gesture recognition or Drop In Car an in-car delivery point for last mile delivery orders. A selection of other innovations is specifically designed for powertrain optimization, such as e-motor components for electric vehicles.
Novares commitment to innovation is central to the company's growth strategy along with strategic acquisitions and investments. The company's now ranks amongst the top 100 international automotive suppliers. To invent the vehicle of the future, Novares relies upon 3 strategic pillars: its R&D – a 750-strong worldwide research and development team and 5,4 % turnover dedicated to innovation-the Nova Car open innovation lab and Novares Venture Capital to invest in strategic innovation partnerships and start-ups, with the aim of developing long-term partnerships. So far, the company has invested 12m euros of its fund in 4 startups and innovative companies: Flexenable, APAG CoSyst, Actronika and Quad Industries.
With Nova Car #1, Novares demonstrated 16 innovations in partnership with 4 startups and initiated fruitful collaboration with the world's leading car manufacturers.
For Nova Car 2, Novares has partnered with 10 startups and innovative companies, among them the four companies in which Novares has invested via Novares Venture Capital, and with the CEA Tech, Daikin, TG0 and Boarding Ring.
The Nova Car #2 will now start a worldwide tour, showcasing its 25 innovations to its customers in Europe, the United States, China and Japan.
"The Nova Car is our open innovation lab through which we collaborate with the most innovative start-ups and companies on the market. We are very proud to unveil the Nova Car #2 with 25 innovations that anticipate the automotive evolutions, with new ultra-intuitive interfaces, an optimal propulsion system and advanced communications between the passengers, the vehicle and its environment for unique user experiences that will integrate the vehicles of tomorrow, said Pierre Boulet, CEO of Novares.
About Novares
Novares group is a portfolio company of Equistone Partners Europe, with BPI France as second largest shareholder.
Headquartered in France, Novares is a global plastic solutions provider that designs and manufactures complex components & systems serving the future of the automotive industry. The company creates and produces cutting edge automotive solutions with technical plastic injection for cleaner, lighter, connected, cars with intelligent and intuitive interfaces for all passengers.
Novares co-develops and provides engineering and manufacturing expertise to virtually every OEM and many Tier-1 companies in the automotive market. Following MPC integration, Novares' 2019 revenues should amount to €1.4 billion.
The Group, including Novares Venture Capital participations, is present in 22 countries, runs 47 Manufacturing Plants, 8 Skill Centers, 8 Technical Centers and 17 Customer Service Centers, around the globe to partner with customers.
Novares Venture Capital partners
Actronika: Advanced haptic solutions
Actronika is a French start-up working on disruptive HMI Technology (Human Machine Interface), integrating next-generation haptic technologies in smart surfaces for advanced tactile user experience.
APAG CoSyst: Lighting and electronics systems
APAG-CoSyst is an innovative Swiss company that designs, develops, and produces electronic control units (ECUs) and LED-based lighting modules. The focus functions for APAG-CoSyst's products are actuator control, sensor data processing, multi-function gateways, exterior accent lighting, and small interior peripheral functional and aesthetic lighting.
FlexEnable: Integration of glass-free flexible displays
FlexEnable is a world leader in the development and industrialization of low-cost, scalable plastics electronics for flexible displays and sensors.
Quad Industries: Printed electronics, flexible sensor solutions
Quad Industries is a Belgian company specialized in development and production of user interfaces and printed electronics. It provides flexible sensor solutions for both consumer and industrial applications.
Research and Development Partner
About CEA Tech
As the only public research organization in the Derwent top 100 global innovators (2018-19), CEA's activities span four areas: defense and security, low-carbon energy, technological research for industry, and basic research. With its technological research department (CEA Tech), it develops, protects and transfers enabling technologies covering the vast majority of traditional industries through to the most advanced high-tech industries. CEA services address companies of all sizes and, with regional branch offices across France, and it is positioned to support local partners with their innovation strategies, creating value and long-lasting jobs across France. At the service of innovation, particularly in deep tech, the CEA has been supporting the creation of start-ups for more than 20 years. It is the leading french research organization in patent filing (annual INPI ranking).