Novares, the global automotive plastics supplier, opened a new $1.75m site for manufacturing car components at Santa Ana, Sonora, Mexico.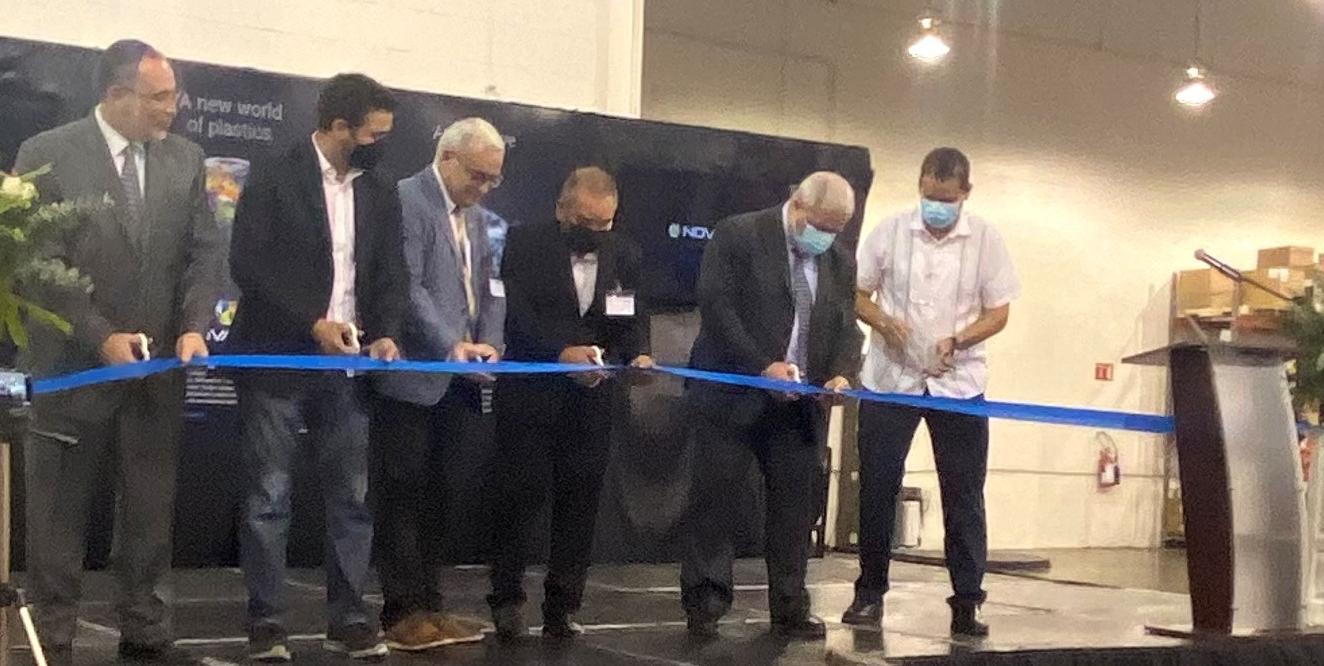 From left to right: Octavio URRUTIA – Novares Plant Director, Elier ESTRADA – Ford STA,
Thierry CALMUS – French Consul in Hermosillo, Francisco ARECHUCO – Santa Ana City Mayor,
Pierre BOULET – Novares CEO &  Juan Carlos OCAÑA
in attendance representing Governor Mr. Alfonso DURAZO of Sonora.
Novares Group inaugurated its Santa Ana Plant on April 21st, even though it has been delayed due to the sanitary situation.
The brand new 8,014 m2 plant produces plastic tubes for emission control applications, molded parts for oil separators and other under-the-hood plastic parts for a range of international automotive companies.
The new state-of-the-art plant, equipped with new machinery such as a CVT extrusion machine for producing electric car battery cooling system parts, consolidates the company's tube assembly production in one site, transferring these operations from its Richmond, Wisconsin, facility and from its nearby existing site in Santa Ana.
The plant, which was constructed between June 1st, 2021, and March 31st, 2022, will employ around 400 people.
The official inauguration ceremony took place in the presence of Mr. Juan Carlos Ocaña representing Governor Mr. Alfonso Durazo of Sonora, as well as the French Consul in Hermosillo, Dr. Thierry Calmus, alongside representatives from customers and local press.
Speaking at the ceremony, Pierre BOULET – Novares CEO said: "This is a significant investment by Novares in our Mexican production facilities, designed to bring this activity under one roof and concentrate our expertise in one place, optimizing costs and benefits for our customers. The site is 100km south of the US border, simplifying supply chains to the North American market. The site will bring more opportunities for local employment and a new chapter in our Mexican manufacturing journey."
About Novares
Novares group is a portfolio company of Equistone Partners Europe, with Bpifrance as second largest shareholder.
Headquartered in France, Novares is a global plastic solutions provider that designs and manufactures complex components & systems serving the future of the automotive industry. The company creates and produces cutting edge automotive solutions with technical plastic injection for cleaner, lighter, connected, cars with intelligent and intuitive interfaces for all passengers.
Novares co-develops and provides engineering and manufacturing expertise to virtually every OEM and many Tier-1 companies in the automotive market. Novares' 2021 revenues amounted to €1.1 billion.
The Group is present in 22 countries, runs 41 Manufacturing Plants, 8 Skill Centers, 8 Technical Centers and 23 Customer Service Centers, around the globe to partner with customers, with one out of three vehicles worldwide containing Novares Inside products.
www.novaresteam.com