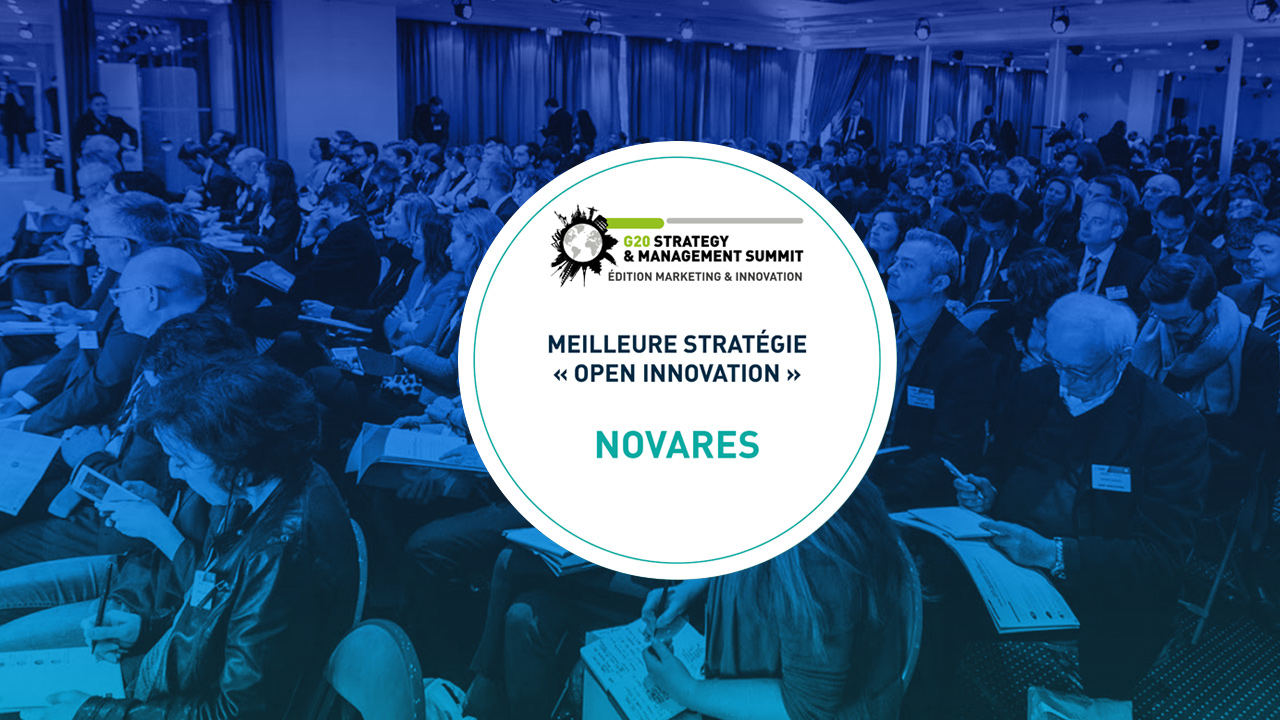 June 18, 2019
Novares Group has been awarded the Best Open Innovation Strategy at the G20 Marketing and Innovation Summit, which took place in Paris on 5 June.
The summit brings together over 500 top managers from across French industry, from major companies to innovative start-ups. Summit organizer Leaders League appoints an expert jury which awards prizes to the most successful companies in three major areas: growth, marketing and innovation.
The award recognizes Novares' investment in open innovation programs and co-development, along with strategic acquisitions and investments. The company's commitment to innovation is central to the company's growth strategy which now ranks amongst the top 100 international automotive companies.
With a 750 strong R&D team worldwide and 5,4 % turnover dedicated to innovation, Novares adds to this internal R&D strike force the Nova Car Open Innovation Lab. The Group scouts in the Deep Tech Startups ecosystem to co-develop and showcase new solutions for its customers that shift the way cars interact with passengers and their environment, and are powered for greener mobility.
Novares has created Novares Venture Capital – a 50m-euro investment vehicle to invest in strategic innovation partnerships and start-ups, with the aim to develop long term partnerships. So far, the company has invested 12m euros of its fund.
With its Nova Car 1, Novares demonstrated 16 innovations in partnership with 4 startups in vehicle technology and toured the world to give its customers a vision of the automotive future.
Nova Car 2, which will be unveiled on June 25 in Paris, will showcase 25 innovations in partnership with 10 startups and innovative companies, that shift the way cars interact and communicate with passengers and their environment, while also offering greener mobility.
Novares was represented by Luc Dornier, SVP Product Development, Pierre-Olivier Beck, M&A and Group Development VP and Christophe Cazes, Innovation Director.
"Innovation is central to our growth strategy. Our aim is to anticipate the future and offer the solutions our customers are searching for in the rapidly-evolving automotive market needs. Receiving this award shows that our efforts are not going unnoticed and confirms the sound strategy we have embraced," said Pierre Boulet, CEO of Novares.
About Novares
Novares group is a portfolio company of Equistone Partners Europe, with BPI France as second largest shareholder.
Headquartered in France, Novares is a global plastic solutions provider that designs and manufactures complex components & systems serving the future of the automotive industry. The company creates and produces cutting edge automotive solutions with technical plastic injection for cleaner, lighter, connected, cars with intelligent and intuitive interfaces for all passengers.
Novares co-develops and provides engineering and manufacturing expertise to virtually every OEM and many Tier-1 companies in the automotive market. Following MPC integration, Novares' 2019 revenues should amount to €1.4 billion.
The group, including Novares Venture Capital participations, is present in 22 countries, runs 47 Manufacturing Plants, 8 Skill Centers, 8 Technical Centers and 17 Customer Service Centers, around the globe to partner with customers.