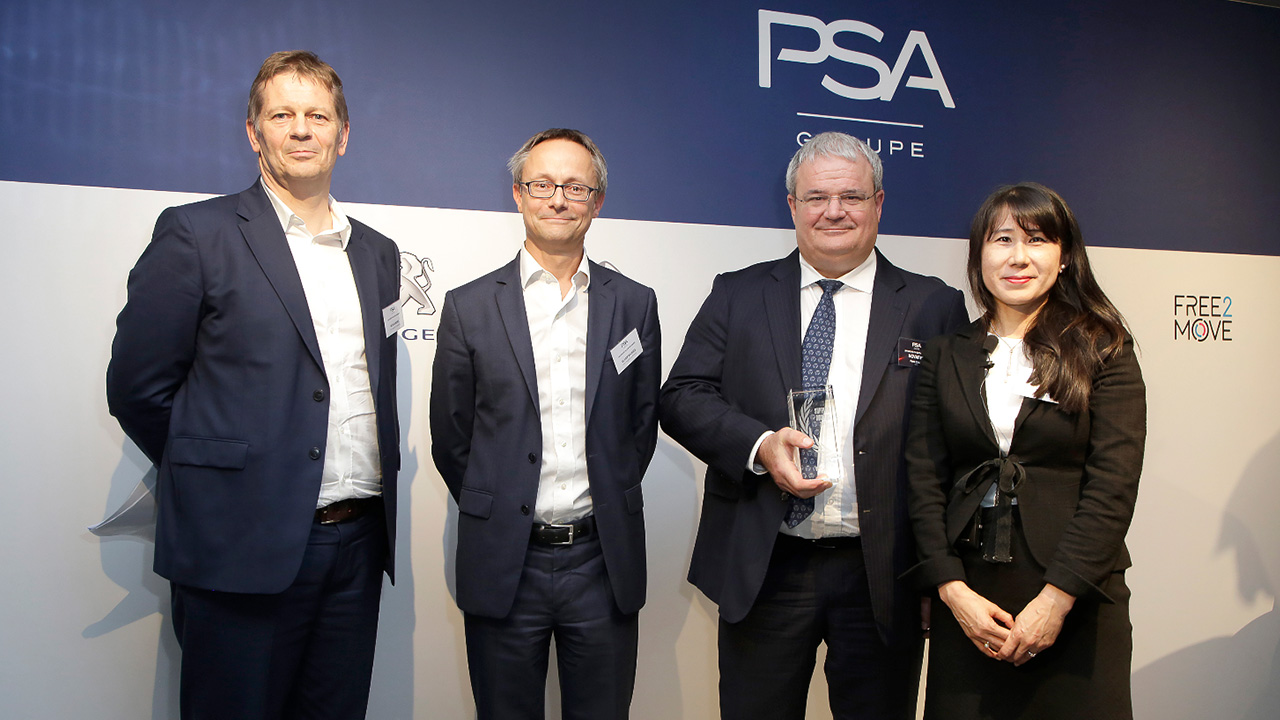 June 19, 2019
Novares Group has been honored by major customer Groupe PSA with an award for program management at its 2019 Supplier Awards, which took place in Rueil-Malmaison, near Paris, on June 13.
The award – in recognition of Novares' performance in terms of Program Management– was received by Novares CEO Pierre Boulet. Novares received this award in recognition of its performance in terms of the quality of deliverables, on-time delivery, cost control, project management, success of launches and technical expertise.
Also attending the ceremony from Novares were Group Program Director Pascal Letellier, Peugeot Citroen Volvo Fiat Business Unit Business Development Director Philippe Vayssettes and Peugeot Citroen Volvo Fiat Business Unit VP François Rosen.
Novares supplies a range of products to Groupe PSA, including Interior, exterior , and engine compartment components from its global network of factories.
Last year, two of Novares' factories, Sainte Marguerite, in France and Seseña, in Spain, won best plant awards for the quality of service and delivery to PSA factories in Poissy, Mulhouse, Sochaux and Rennes in France and Vigo and Madrid in Spain.
"PSA is an important and valued customer for Novares, and as a trusted supplier, our role is to support PSA and constantly improve our performance by delivering high quality components on time, in line with their requirements. This award, building on last year's achievements, shows that we are fulfilling our promise to our customer," said Pierre Boulet, CEO of Novares.
About Novares
Novares group is a portfolio company of Equistone Partners Europe, with BPI France as second largest shareholder.
Headquartered in France, Novares is a global plastic solutions provider that designs and manufactures complex components & systems serving the future of the automotive industry. The company creates and produces cutting edge automotive solutions with technical plastic injection for cleaner, lighter, connected, cars with intelligent and intuitive interfaces for all passengers.
Novaresco-develops and provides engineering and manufacturing expertise to virtually every OEM and many Tier-1 companies in the automotive market. Following MPC integration, Novares' 2019 revenues should amount to €1.4 billion.
The group, including Novares Venture Capital participations, is present in 22 countries, runs 47 Manufacturing Plants, 8 Skill Centers, 8 Technical Centers and 17 Customer Service Centers, around the globe to partner with customers.