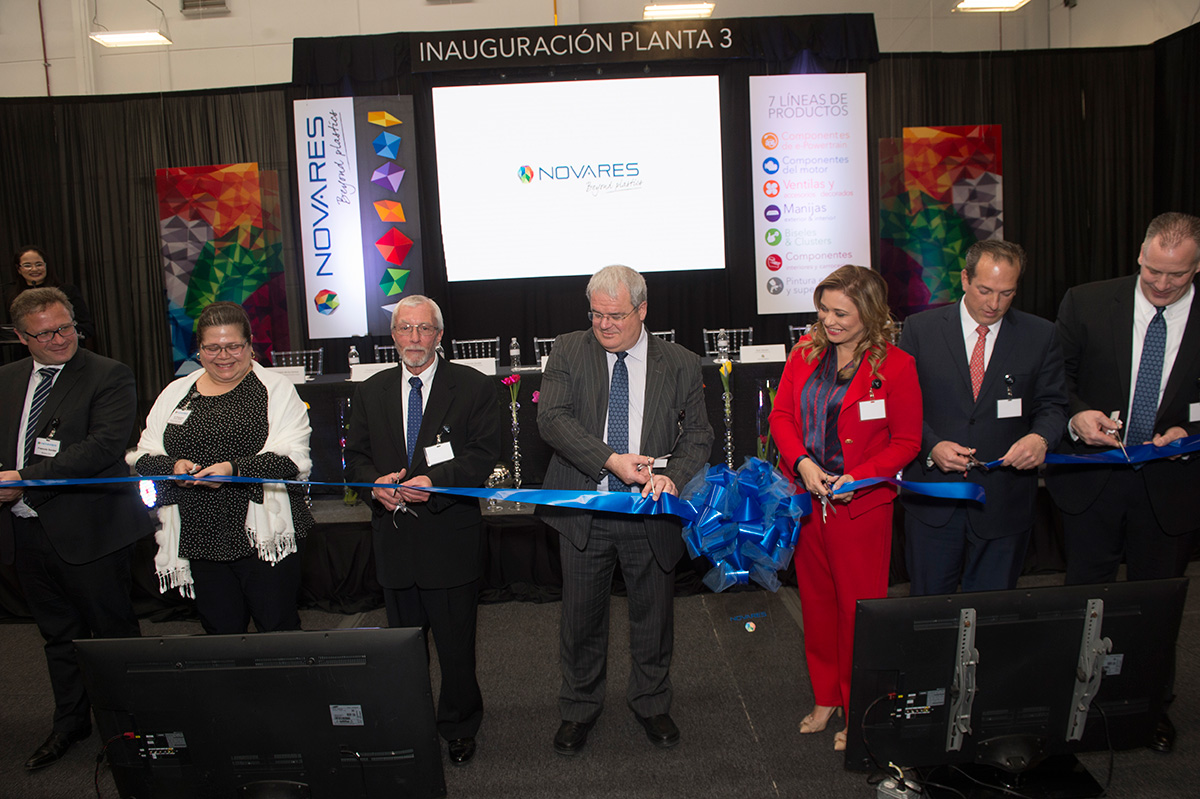 On February 27, 2018, Novares celebrates the opening of its 3rd Mexican production plant in Chihuahua, to total 5 in Mexico.
Novares has a total of 5 production plants in Mexico. There are now three located in Chihuahua, one in Puebla and one in Silao. The first Chihuahua plant was established in 1994, the second in 1997, and both specialize in producing plastic components such as radio bezels, HAVC controls for interiors. The Puebla plant opened in 2003, specializes in injection molding, parts for vehicle exteriors, interiors and the engine; and the Silao plant opened in 2016, it produces moldings by injection for engine parts.
The new Chihuahua plant has been established to expand current business with Ford and further develop programs with their new customer, BMW. In addition, Novares promises to meet automotive industrial standards with the use of their Smart rules and tools. These processes ensure that lean and efficient manufacturing principles are applied to all operational activities. The new plant will house 276 employees, in a 7,900 m² facility and an annual turnover of 23.5 million dollars is estimated.
Novares has invested a total of 15.6 million dollars in this site which is key for the Group. This contribution represents 2.6 million dollars on building renovations and 13.0 million dollars were spent on new equipment, machinery, including 25 new Engel Injection Molding Machines hosted locally.
"We are very excited and proud to open our 5th production plant in Mexico. I would like to thank all our staff for their dedication and effort they have made to get the new machinery and operations set up. We are looking forward to closely working with our customers, Ford, BMW and help them take their business to the next level" said Charles Holmes, Plant Director, Novares Chihuahua, Mexico.
The Group Novares started its production in Mexico in 1994 and employs 1185 in the 5 plants. Novares' main objective and ambition is to become a top automotive supplier for interiors, exteriors, engine and to be a leading producer of plastic components solutions.
About Novares
Mecaplast – Key Plastics rebranded as Novares on September 19th, 2017.
Novares is a global plastic solutions provider that designs and manufactures complex components & systems serving the future of the automotive industry. Novares creates and produces cutting edge automotive parts, specializes in technical plastic injection that contributes to cleaner, lighter, more connected, user-friendly cars.
Novares provides engineering and manufacturing expertise to virtually every OEM and many Tier-1 companies in the automotive market. Novares' estimated 2017 revenues amount to €1.2 billion1.
Headquartered in France, the group is present in 21 countries, runs 42 manufacturing plants, 7 Skill centers, 5 Technical centers, 17 customer service centers, around the globe to partner with customers.
¹Estimated information not derived from consolidated financial statements that has not been approved by the Company's Chairman and has not been audited by its statutory auditors.