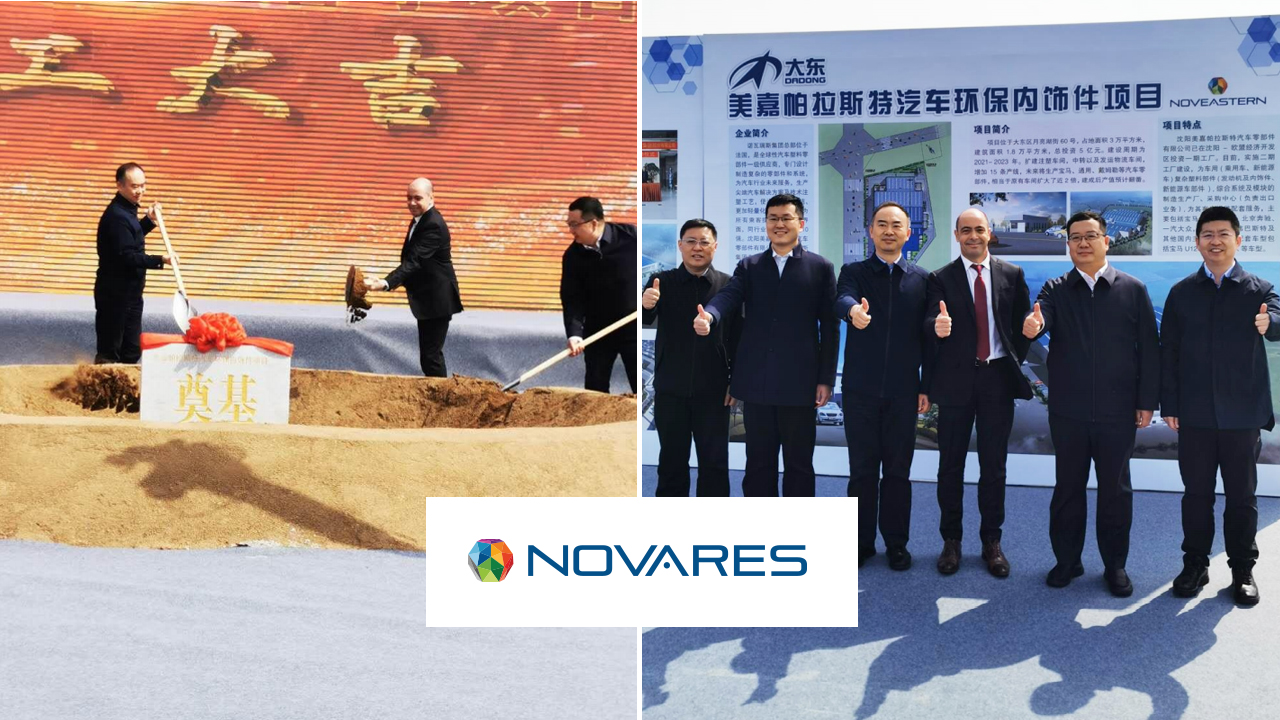 April 9, 2021
On March 31, Novares held a ground-breaking ceremony to celebrate the start of expansion of Shenyang plant, which will increase the site's capacity by 15 production lines.
Philippe Vayssettes, President of Novares Business Unit in China, presented the project to the 200-strong audience that attended the ceremony, which included journalists and local officials – Dadong district Party Secretary Li Gang and Mayor Wang Linxiang – and Michael Grötzbach, head of the BMW Brilliance Dadong extension project.
The Shenyang site, established in April 2014, produces plastic injection molding car parts and other components for SAIC-GM Norsom Motors Co. Ltd, BMW Brilliance and Daimler and the new, 18,000 sqm building is needed in response to Novares' expanding business in the region. With the support of these key customers and the Dadong District Committee and District Government, the site has developed rapidly, achieving sales of CNY120m (€15.5m) in 2020.
The new building will be erected and plant equipment installed for a completion date of October 31, 2021, bringing the total land area of the Shenyang site to 30,000 sqm.
Pierre Boulet, Novares CEO said: "The local authorities recognize the importance of this project for the region and have smoothed the way for us to quickly construct the new building. This means we will be able to increase output and meet the needs of our customers, who have put their trust in Novares and its expertise."
About Novares
Novares group is a portfolio company of Equistone Partners Europe, with BPI France as second largest shareholder.
Headquartered in France, Novares is a global plastic solutions provider that designs and manufactures complex components & systems serving the future of the automotive industry. The company creates and produces cutting edge automotive solutions with technical plastic injection for cleaner, lighter, connected, cars with intelligent and intuitive interfaces for all passengers.
Novares co-develops and provides engineering and manufacturing expertise to virtually every OEM and many Tier-1 companies in the automotive market. Novares' 2020 revenues amounted to €1 billion.
The Group is present in 23 countries, runs 42 Manufacturing Plants, 8 Skill Centers, 8 Technical Centers and 23 Customer Service Centers, around the globe to partner with customers.