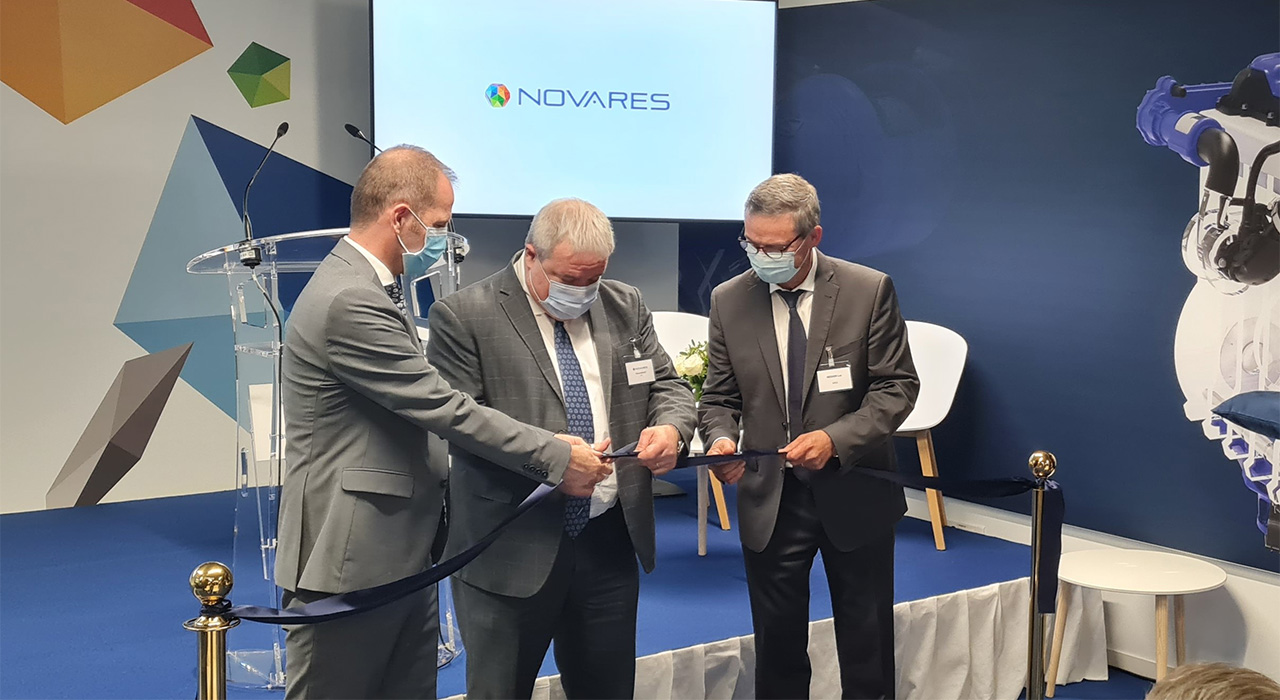 June 24, 2021
Novares, a major automotive plastics supplier, today inaugurated its newly built skill center for powertrain products at its site in Lens, France, in the presence of the company's CEO Pierre Boulet. This was made possible thanks to the support of the Hauts-de-France Region.
The center is one of eight in Novares' global network of skill centers across the globe and employs 160 powertrain specialists who design lighter and greener engine parts for the automotive industry. It is one of Novares' three powertrain skill centers, the other two being in China and the USA.
Lens is an engine of innovation, responsible for a third of the 200 patents that Novares has filed with the French national intellectual property institute, INPI. Lens, like all the powertrain skill centers, built its history on combustion engine development, but is today also focused on developing electric and hydrogen-powered engines.
The Lens center made its name reducing the weight and cost of individual engine parts by between 30 and 50%, finding plastic alternatives to parts traditionally made of metal. Now the center is focusing on today's challenges of achieving greener, more sustainable vehicles and reducing CO2 emissions, winning prizes in recent years for innovations in fuel-cell technology and hydrogen-fueled vehicles.
The newly built 7,500 m2 center is equipped with laboratories and state-of-the-art mechanical simulation equipment and brings together the company's best engineering and research experts in this field. The investment by Novares at the site recognizes the center's importance as an international hub of powertrain expertise.
"The new skill center at Lens will not only give our expert teams the best facilities in which to develop their innovations, it will also become an international center of excellence, where we can show our global customers the fruits of our considerable R&D investment and how this translates into innovations that will help the cars of tomorrow meet the pressing challenges of today's green agenda," said Pierre Boulet, Novares CEO.
About Novares
Novares group is a portfolio company of Equistone Partners Europe, with BPI France as second largest shareholder.
Headquartered in France, Novares is a global plastic solutions provider that designs and manufactures complex components & systems serving the future of the automotive industry. The company creates and produces cutting edge automotive solutions with technical plastic injection for cleaner, lighter, connected, cars with intelligent and intuitive interfaces for all passengers.
Novares co-develops and provides engineering and manufacturing expertise to virtually every OEM and many Tier-1 companies in the automotive market. Novares' 2020 revenues amounted to €1 billion.
The Group is present in 23 countries, runs 42 Manufacturing Plants, 8 Skill Centers, 8 Technical Centers and 23 Customer Service Centers, around the globe to partner with customers.