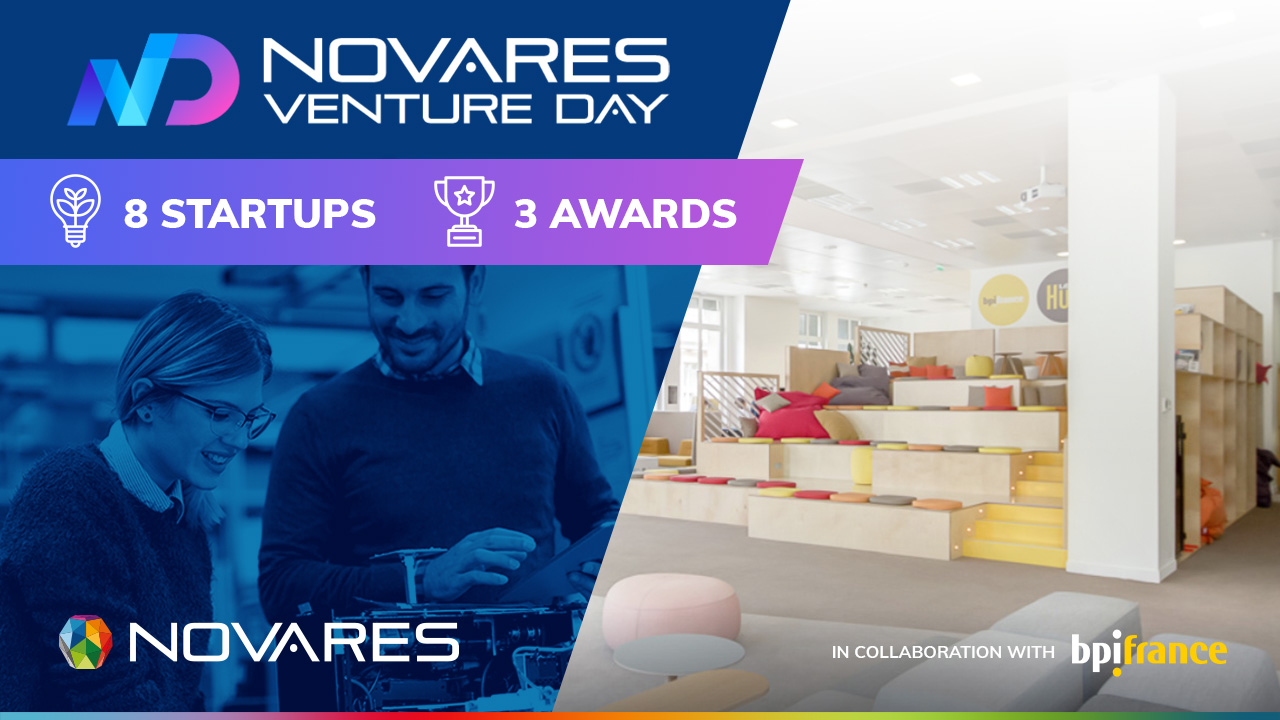 June 2nd, 2021
The third 'Novares Venture Day' took place yesterday – an event where start-up companies in the innovation sector pitch their ideas to an expert jury and the winners get the chance to work with Novares and see their innovations used in real applications in the automotive sector.
This year, Novares collaborated with Bpifrance, the French Investment Bank that invests especially in innovation, with this year's Novares Venture Day taking place digitally at the Bpifrance Hub.
The two-hour event showcased pitches from eight different innovation start-ups in front of a jury comprising Novares CEO Pierre Boulet, Bpifrance Mid Cap and Automobile Future Funds Investment Director Alexandre Ossola, alongside representatives from major car companies such as Stellantis and Renault.
The event also featured a roundtable discussion on open innovation in the automotive sector, with speakers from Novares, Bpifrance, Vulog – pioneer and leader in shared mobility – and Nissan, as well as presentations on the Nova Car open innovation program, hydrogen in the auto sector and the experience of an innovation start-up already working with Novares.
The day concluded with an award ceremony for winners of the three prizes, chosen by the jury, in the following themed categories: green mobility, new user experience and intuitive interfaces.
The winners were:
• New UX Prize – NAWA Technologies is the world leader in carbon nanotube mat solutions.
• Green Mobility Prize –Enerbee Supplier of energy generation solutions to develop connected and autonomous devices.
• User Interface Prize –Aledia is the only microLED technology on large-area silicon wafers and microelectronics foundries for high yield and low cost.
Novares CEO Pierre Boulet said: "We are proud to have held this latest Novares Venture Day, which allows us to uncover promising start-ups and work with them to develop cutting-edge technologies for the automotive industry. We want to continue to invest in innovation and we are committed to rapidly integrating the best ideas into our automotive portfolio."
Alexandre Ossola, Bpifrance Mid Cap and Automobile Future Funds Investment Director, added: "We have a team of experienced professionals with over 60 investors dedicated to innovation projects. We are pleased to have taken part in the Novares Venture Day and supported a showcase for automotive entrepreneurs."
About Novares
Novares group is a portfolio company of Equistone Partners Europe, with BPI France as second largest shareholder.
Headquartered in France, Novares is a global plastic solutions provider that designs and manufactures complex components & systems serving the future of the automotive industry. The company creates and produces cutting edge automotive solutions with technical plastic injection for cleaner, lighter, connected, cars with intelligent and intuitive interfaces for all passengers.
Novares co-develops and provides engineering and manufacturing expertise to virtually every OEM and many Tier-1 companies in the automotive market. Novares' 2020 revenues amounted to €1 billion.
The Group is present in 23 countries, runs 43 Manufacturing Plants, 8 Skill Centers, 8 Technical Centers and 23 Customer Service Centers, around the globe to partner with customers.
About Bpifrance
Bpifrance is the French national investment bank. It finances businesses – at every stage of their development – through loans, guarantees, equity investments and export insurances. Bpifrance also provides extrafinancial services (training, consultancy) to help entrepreneurs meet their challenges (innovation, export…).
For more information, please visit: www.bpifrance.fr and presse.bpifrance.fr – Follow us on Twitter: @Bpifrance – @BpifrancePresse