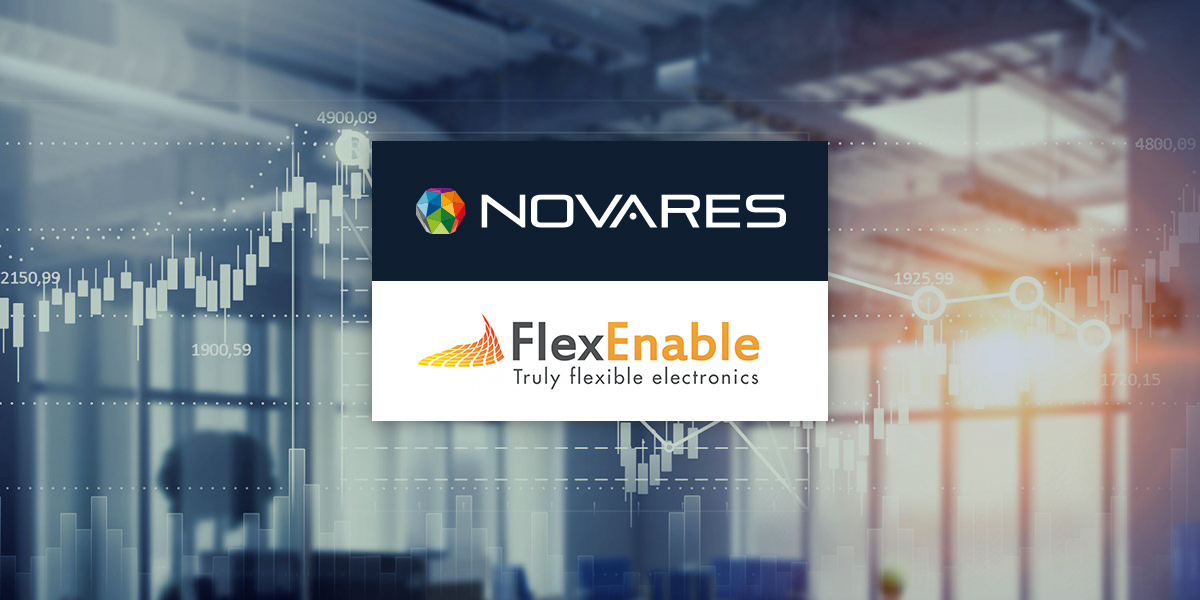 27 April 2018
Novares will invest up to 50 million euros in the development of technological innovations over the next five years, with a first 5 million euro investment in two tranches in FlexEnable, a plastronics start-up specializing in smart surfaces.
In February this year, Novares created Novares Venture Capital, managed by the Group, to support new businesses and start-ups with technical expertise in fields adding value to Novares' products, such as plastronics and mechatronics. Following a first 2.5 million euro investment in FlexEnable in April 2018, an equal amount is scheduled for 2019, providing that market feedback on the innovation remains positive. This will give Novares a significant equity stake in FlexEnable.
FlexEnable Ltd is a world leader in Organic Thin Film Transistor (OTFT) plastic electronics (plastronics) and the only company to have successfully industrialized flexible OTFT technology with more than 600 related patents. The investment is the first step in an exciting partnership to develop innovative glass-free flexible electronic displays and sensors or "smart surfaces" for automotive applications. It will combine Novares' expertise in designing and manufacturing automotive parts with FlexEnable's bendable, wrappable, glass-free plastic electronics technology.
The flexibility provided by this technology, together with Novares' integrator know-how, can give automotive designers a much larger variety of shapes to work with, and replace the present flat screens that are not ideally suited to the current shapes of cars' interior.
There are many possible future applications of the technology and the "Flex View" innovation (exterior revolving mirrors & camera with an integrated flexible screen for rear view) integrated on Nova Car #1 proves its great potential. Incorporating flexible screens on multiple interior parts manufactured by Novares is a next step in this development, to satisfy the creativity of automotive designers, assist drivers and improve overall passenger experience.
In order to bring new innovations quickly to market for the benefit of its customers, Novares Venture Capital will further invest in technological innovators to gain access to the latest technologies and influence the direction of development into areas of interest for car manufacturers.
'Open to current or future partners and co-innovators, such as Actronika and Quad, the new fund will reinforce the Group's strategy, in terms of strategic mergers and acquisitions (M&A) combined with strategic research and development (R&D) activities. This will support Novares'
new solutions for clean, light, connected and autonomous cars that are user-friendly, incorporating HMIs (Human Machine Interfaces) with an improved passenger experience,' says Pierre Boulet, Novares CEO.
Chuck Milligan, CEO of FlexEnable, adds 'We are delighted to be supported by Novares who have taken a leadership position in bringing smart surfaces to the automotive supply chain. With the automotive display market valued at $22bn by 2022, this investment is a further validation of FlexEnable's glass-free display technology and its potential to serve the growing demand for low-cost, high-reliability, conformable and shapeable displays to meet the evolving needs of the automotive HMI.'
In 2017, to speed up its Research and Development projects, Novares Group also signed a multi-year framework agreement for collaboration with public research organization CEA (Atomic Energy Commission) to industrialize and commercialize existing and new technologies for future connected, autonomous, electric and hybrid vehicles.
About Novares
Mecaplast – Key Plastics rebranded as Novares on 19th 2017.
Novares is a global plastic solutions provider that designs and manufactures complex components & systems serving the future of the automotive industry. The company creates and produces cutting edge automotive parts, specializes in technical plastic injection that contributes to cleaner, lighter, more connected, user-friendly cars.
Novares provides engineering and manufacturing expertise to virtually every OEM and many Tier-1 companies in the automotive market. Novares' estimated 2017 revenues amount to €1.2 billion.
Headquartered in France, the group is present in 21 countries, runs 42 manufacturing plants, 7 Skill centers, 5 Technical centers, 17 customer service centers, around the globe to partner with customers.