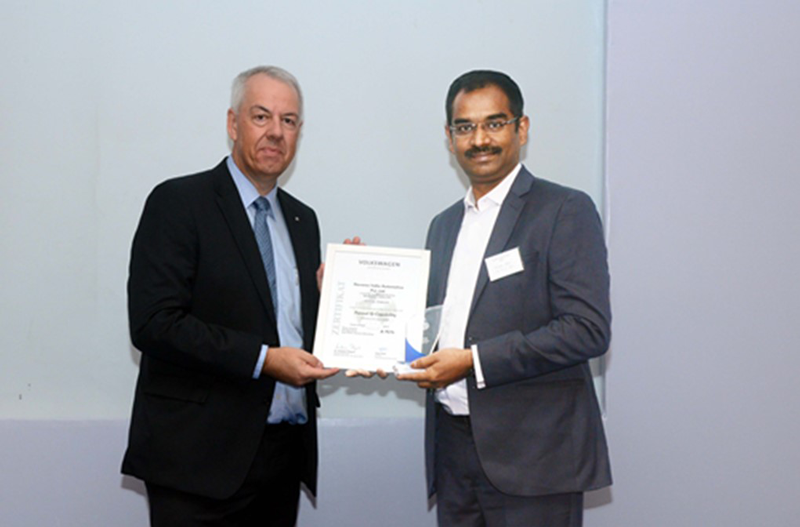 In December 2017, following a 2nd annual VDA (Verband Der Automobilindustrie) 6.3 process and product audit, the Chennai team was given the highest standard "A" rating by Volkswagen.
Last year, the Novares Chennai team was granted several prestigious awards in terms of high quality performance from global car manufacturers, Ford, General Motors and Toyota.But the awards list doesn't stop here.
Volkswagen typically enforces stringent requirements and rates an automotive supplier for its production process effectiveness and product safety standards. To achieve an ''A'' quality rating in this category, a long list of ''best practice'' standards must be met to reach at least 90% of criteria.
Senior members of theNovares Chennai team attended the VDA (Verband Der Automobilindustrie) 6.3 and PSB (Product Safety) training at a local Volkswagen authorized training center last year. After the training, all the key requirements were cascaded to entire team. Novares gave importance to critical questions asked and responded to best method examples given during the training.
'We have fine-tuned our process, and put into place key requirements suggested by Volkswagen. I am very proud of our team to have received the ''A'' rating in process and products from Volkswagen.'Said B.S. Rao, Country Director, Novares Chennai, India.
Novares Group started its production in India in 2009. Today, the Chennai plant supplies high quality engine and exterior parts to global automotive manufacturers such as: Ford, Renault Nissan, Toyota, Suzuki, General Motors. Currently, the Novares Chennai facility delivers a turnover of 14 million euros and has a target to achieve 20 million euros by 2020. The facility also benefits from a technical centre nearby that supports the Group in product innovation.
About Novares
Mecaplast – Key Plastics rebranded as Novares on 19 September 2017.
Novares is a global plastic solutions provider that designs and manufactures complex components & systems serving the future of the automotive industry. Novares creates and produces cutting edge automotive parts, specializes in technical plastic injection that contributes to cleaner, lighter, more connected, user-friendly cars.
Novares provides engineering and manufacturing expertise to virtually every OEM and many Tier-1 companies in the automotive market. In 2017, Novares generated adjusted revenues of 1.2 billion euros1.
Headquartered in France, the group is present in 21 countries, runs 42 manufacturing plants, 7 Skill centers, 5 Technical centers, 17 customer service centers, around the globe to partner with customers.
¹Estimated information not derived from consolidated financial statements that has not been approved by the Company's Chairman and has not been audited by its statutory auditors.