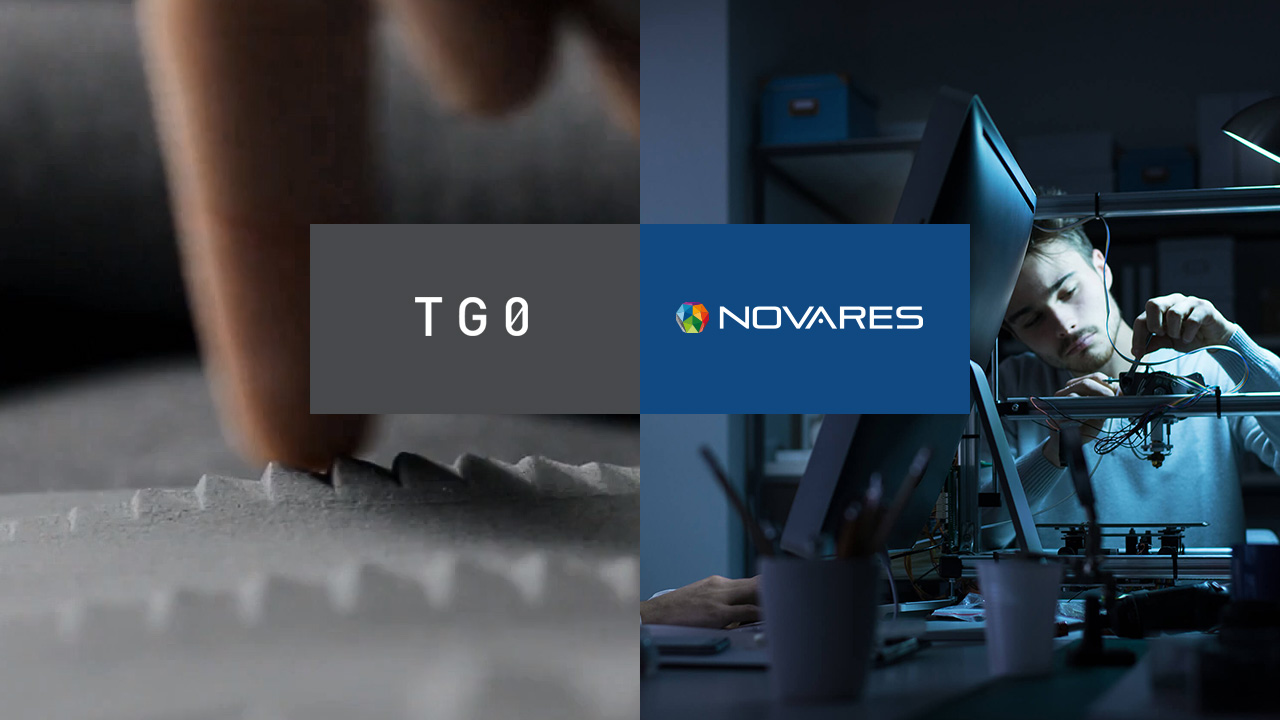 Paris, July 4th, 2019
Novares has entered into a partnership with TG0, a UK-based 3D touch technology company. The deal was signed at the unveiling of Nova Car #2, Novares' open innovation lab, which incorporates TG0's 'Squeeze command' technology.
Signing the Joint Development Agreement for Novares were Pierre Boulet, CEO, Pierre-Olivier Beck, VP M&A and Christophe Cazes, Innovation Director. TG0 was represented by Ming Kong, TG0 CEO.
TG0 has developed a platform technology which turns injection-molded plastics into 3D touch and pressure sensitive surfaces. Driven by artificial intelligence and advanced signal processing algorithms, the technology accurately detects touch pressure and location without conventional metallic sensor networks.
Squeeze command, one of 25 new innovations in Novares' car of the future, is a door command with gesture recognition. It replaces all door control with a single control button with movement recognition, making it possible to add new functionalities without needing to introduce new buttons.
The partnership is one of several Novares has entered into with innovation start-ups and technology companies. Commitment to innovation is central to the company's growth strategy along with strategic acquisitions and investments. Its investment arm, Novares Venture Capital, has so far invested 12m euros in four startups and innovative companies: Flexenable, APAG CoSyst, Actronika and Quad Industries.
For Nova Car 2, Novares partnered with 10 startups and innovative companies, among them the four companies in which Novares has invested via Novares Venture Capital, and also with the CEA Tech, Daikin, TG0 and Boarding Ring.The Nova Car #2 will now start a worldwide tour, showcasing its 25 innovations to its customers in Europe, the United States, China and Japan.
"TG0 is excited for our strategic partnership with Novares. A future with Novares creates many opportunities in realising the next-gen human-machine interaction platform for the next 20 years." said Ming Kong, CEO at TG0
"This partnership deal with TG0 means we will jointly develop automotive applications with pressure sensitive surfaces, building on the Squeeze command innovation already incorporated in Nova Car 2. Partnerships and investment in innovation start-ups are key to our strategy, to ensure we offer the very latest and best in advanced automotive technology to our customers," said Pierre Boulet, CEO of Novares.
About Novares
Novares group is a portfolio company of Equistone Partners Europe, with BPI France as second largest shareholder.
Headquartered in France, Novares is a global plastic solutions provider that designs and manufactures complex components & systems serving the future of the automotive industry. The company creates and produces cutting edge automotive solutions with technical plastic injection for cleaner, lighter, connected, cars with intelligent and intuitive interfaces for all passengers.
Novares co-develops and provides engineering and manufacturing expertise to virtually every OEM and many Tier-1 companies in the automotive market. Following MPC integration, Novares' 2019 revenues should amount to €1.4 billion.
The Group, including Novares Venture Capital participations, is present in 22 countries, runs 47 Manufacturing Plants, 8 Skill Centers, 8 Technical Centers and 17 Customer Service Centers, around the globe to partner with customers.