October 19th, 2021
Novares unveiled no fewer than four new concepts cars at an event held at the Monaco Top Cars Collection. These vehicles feature the latest Novares innovations, jointly developed with startups and innovative companies to overcome the following challenges: Green Mobility, Intuitive & Safe user interface and New UX for Health Wellness Safety or Comfort. A project that has mostly involved the teams in Novares' Monaco skill center.
34 innovations dedicated to the mobility of tomorrow
In 2021, the iconic Nova Car has been reinvented in the form of four demonstration vehicles equipped with off-the-shelf technologies that pave the way for a greener mobility thanks to dedicated solutions for combustion, hybrid, electric and hydrogen engines as well as the passenger compartment of the future.
Two of the vehicles incorporate technologies at an advanced stage of development geared towards the User Experience and the intuitive interface. These account for 16 of the 34 innovations presented this year, and could soon be put into production by manufacturers. The two other concept cars, featuring innovations dedicated to combustion and electric engines, are still at an early stage of innovation. They represent 18 of the 34 innovations.
Innovations for user comfort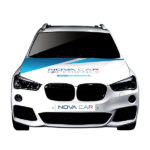 User experience: Equipped with new technologies designed to enhance the user experience, this vehicle is dosed with innovations for smoother, quieter, more comfortable and more practical journeys. Traffic and engine noise reduction technology, haptic feedback controls and elegant displays: the car's interior offers optimum comfort thanks to the latest innovations.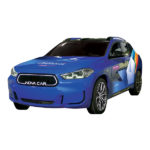 Intuitive interface: Sleek and easy-to-use systems for a simpler and more intuitive human-machine interface. This vehicle boasts the very latest advances in intelligent design. Efficient and invisible ventilation, curved displays and mirrors with IME technology, backlighting and discreet messages: the car uses state-of-the-art technology to seamlessly respond to the needs and wishes of its users.
Engine innovations for cleaner mobility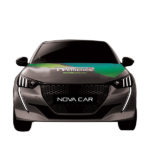 Green Mobility: Energy savings and reduced carbon emissions: green mobility is everybody's concern. This vehicle vies for the best in ingenious inventions designed to make the traditional, hybrid and electric vehicles of tomorrow greener. Improved oil separators, lightweight components, aerodynamic advances: this car is bursting with an array of small improvements to ensure better environmental performance.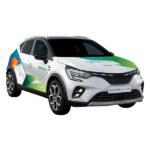 E-Green: As part of the switch to electric, Novares is working around the clock on innovations to make electric vehicles lighter, greener and more aesthetically pleasing. Elegant roof racks, smart driving mode and connectors, a cutting-edge "invisible" antenna: the innovations on this vehicle draw on the latest in automotive technology.
Open innovation at the core of Novares' DNA more than ever
Novares' commitment to innovation lies at the core of the company's growth strategy, along with strategic acquisitions and investments. The company is now one of the top 100 automotive suppliers worldwide. Novares builds on 3 strategic pillars to invent the car of the future:
• its R&D with a global research and development team comprising 750 engineers and technicians and 6% of its turnover dedicated to innovation,
• the Nova Car open innovation lab,
• the Novares Venture Capital, to invest in strategic partnerships and startups so as to develop lasting partnerships. To date, the company has invested €12.9 million of its funds in four startups and innovative enterprises: FlexEnable, APAG CoSyst, Actronika and Quad Industries.
Monaco is home to one of the eight skill centers that make up the international Novares network. Within these centers, the innovations of tomorrow are imagined to address the new needs of the users. The Monaco skill center, which specialises in the interior woodwork and body panels, is behind 8 of the innovations presented this year, such as TOUCH'N FEEL, a high definition panel with haptic feedback for human-machine interfaces, and SQUEEZE COMMAND, control buttons with movement recognition.
"Presenting our innovations in Monaco was important for Novares. The group has historically been close to the principality and the engineers in our skill center in Monaco have worked hard on the development of the innovations, especially in the field of green mobility. Nova Car is our demonstration vehicle designed as an open innovation lab. Green mobility, onboard comfort, user interface: it illustrates our technical expertise and the fruits of collaboration with our partners. The Nova Car is the embodiment of Novares' strategy in its quest to develop engines for all potential needs, as well as the passenger compartment of tomorrow that places all occupants at the centerof these needs. This year, we have chosen to place the spotlight on innovations by type and to enhance their visibility by creating 4 demonstration vehicles illustrating the full breadth of Novares' know-how", says Pierre Boulet, CEO of Novares.
About Novares
Novares group is a portfolio company of Equistone Partners Europe, with Bpifrance as second largest shareholder.
Headquartered in France, Novares is a global plastic solutions provider that designs and manufactures complex components & systems serving the future of the automotive industry. The company creates and produces cutting edge automotive solutions with technical plastic injection for cleaner, lighter, connected, cars with intelligent and intuitive interfaces for all passengers.
Novares co-develops and provides engineering and manufacturing expertise to virtually every OEM and many Tier-1 companies in the automotive market. Novares' 2020 revenues amounted to €1 billion.
The Group is present in 23 countries, runs 42 Manufacturing Plants, 8 Skill Centers, 8 Technical Centers and 23 Customer Service Centers, around the globe to partner with customers, with one out of three vehicles worldwide containing Novares Inside products.