Noveastern is a trademark of Novares Group.
Mecaplast-Key Plastics group, one of the world's leading automotive plastic solutions provider has unveiled its new brand identity to be 'Noveastern' in China. This rebranding exercise reflects both the evolution and new ambition set for the company, ensuring growth for the future.
Having recently solidified its financial position with Equistone Partners as main shareholder, and joining forced in a merger with Key Plastics (Dec. 2016), the company has refreshed its vision and strategy to the market with a focus on value creation, technical products, innovation as well as increasing its global expansion. The merger of both companies has created for customers, a strong global footprint, a balanced product portfolio, and an engineering and innovation strike force with best-in-class manufacturing capabilities.
As a technical component & systems provider, Noveastern offers car manufacturers and Tier-1s a portfolio of 7 distinct product lines. They have been defined by using the company's strengths and capabilities, have been aligned to capture key market opportunities:
• Engine Components: comprises Air Management, Oil Management, Water Management, Engine Acoustic and Aero, and Tanks.
• e-Powertrain Components: include Battery Boxes including components such as: Air Guides, Crash Box, Water Management with Water Cooling Inlets & Outlets.
• Bezels & Clusters: consists of Bezels & Clusters.
• Air Vents & Decoration Trims: includes Air Vents & Kinematics, Deco Trims.
• Interior & Car Body Trim: covers Center Consoles, Dashboard Components, Cowl Grill & Wheel Arch Flares, Full Cockpit & Trunk packages, Roof Consoles, Body Acoustic & Aero Black parts.
• Handles: encompasses Interior & Exterior Handles, Fuel Door and Inside Liftgate Handles with autonomous mechanisms.
• Exterior Paint & Surfaces: offers painting capabilities, full manufacturing process for mid-size parts such as Spoilers & Tailgate Trims, Body Side Moldings, Roof Bars and Rails.
Noveastern believes that plastics production will contribute to the evolution of the automotive industry.
The Group sees a growth potential in China, specifically to grow its e-Powertrain product line. The market, the Chinese government and Chinese customers have sent real signals confirming China ambitioned to be pioneering clean, hybrid, electric cars, user friendly, light and connected cars. This vision has been one of the key reason to restructure the company's offering to address market opportunities. The company's new brand identity has confirmed a merger rationale and successful transformation between Mecaplast and Key Plastics. Novares currently employs 10,000 employees and has produced 1.2 billion euros¹ in revenue (as of Dec. 2016).
"China is a key growth market for us and this is a very exciting time. We have repositioned ourselves using our strengths in a more proactive way to capture market opportunities and to meet the demands of our customers. We have become one united, international team and are excited about our prospective future" says Pierre Boulet, CEO of Noveastern.
The brand Noveastern is explained in 2 parts:
• 'Nov' as a derivation of Novares Group
• 'Eastern', used as a reference to the Eastern world for China.
Our company's new logo evokes a baseline expertise as technical component and systems provider. The triangle design represents complex components, our integration expertise and together symbolizes the puzzle seen in the automotive world. It is an explosion of colors, and expresses our desire to drive innovative solutions to make the future of automotive come true. The globe with triangles is a symbol for complex components, our capacity to assembly, our integration expertise. It is as well as a symbol for expansion as we are expanding ourselves.
Whilst the graphics, logo and tagline have changed, the company's global value proposition and market promise remain focused on 3 key areas to deliver customers: 1: Global Proximity 2: Reliable Execution and 3: Pragmatic Innovation.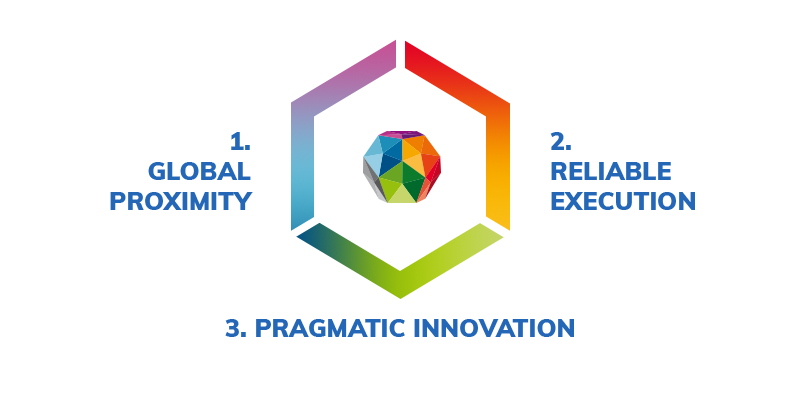 ABOUT NOVEASTERN
Mecaplast – Key Plastics rebrands as Noveastern in China as of December 1, 2017
Noveastern is a trademark of Novares Group.
Noveastern is a global plastic solutions provider that designs, manufactures complex components & systems serving the future of the automotive industry. Noveastern creates, produces cutting edge automotive parts, specializes in technical plastic injection that contributes to cleaner, lighter, more connected, user-friendly cars.
Noveastern provides engineering and manufacturing expertise to virtually every OEM and many Tier-1 companies in the automotive market. In 2016, Novares group generated pro forma revenues of 1.2 billion euros¹.
Novares Group is headquartered in France, is present in 21 countries, runs 42 manufacturing plants, 7 Skill centers, 5 Technical centers, 17 customer service centers, around the globe to partner with customers.
¹Pro forma financial information of Novares Group including the acquisition of Key Plastics, IFRS.