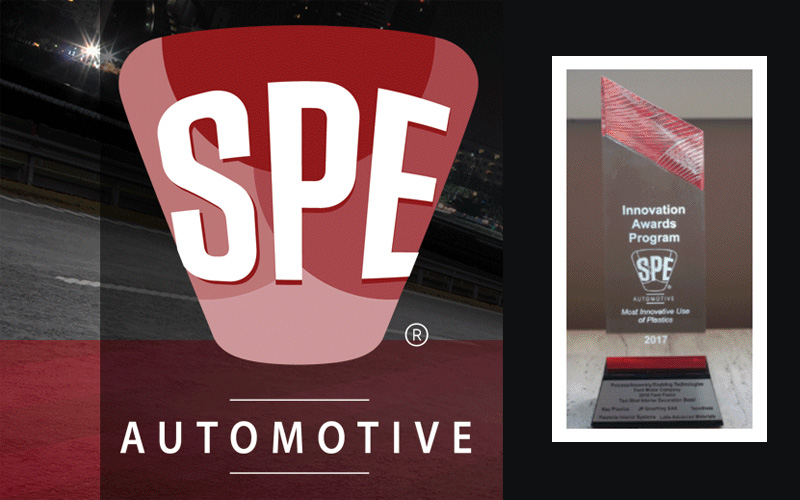 Novares, together with Tier 1 customer Faurecia, has won the SPE (Society of Plastic Engineers) Automotive Innovation Award in the process and technology category for decorative components.
Both companies teamed up to deliver an innovative solution for their end customer, Ford. The winning component was a 2-shot injection Decorative Bezel, a key component for instrument panels. The Decorative Bezel shown with 3D visuals, scratch resistant coating was produced by using a specialized, plastic injection moulding technique. Novares partnered with Faurecia to perfect and produce the design for the 2017 Ford Fiesta ST & Vignale. Decorative Bezels are a sub-segment of Novares Air Vents & Decorative Trims' product line.
The SPE Innovation Awards program is the oldest, largest competition of its kind in the automotive and plastics industries. The Society of Plastic Engineers (SPE) are dedicated to recognizing and rewarding technical accomplishments in all phases of new automotive plastics and plastics based composite applications. Several teams from OEM and Tier-1 suppliers submit nominations describing their parts or systems for consideration as the year's most innovative use of plastics.
'We are very proud to be recognized for our expertise in plastic injection techniques. Our GT1 teams in Portugal and Germany worked closely together on this project. The accurate development of tools and processes by our highly skilled technical center allowed us to successfully produce this solution. This award highlights our team's capacity to innovate and deliver what our customer expected' said Bruno Machado, Business Development Director, Novares Portugal.
Novares (formerly Mecaplast – Key Plastics) specializes in technical plastic injection for the automotive industry. The company has been in business for over 60 years, currently employs 10,000 employees around the globe and has produced 1.2 billion euros¹ in revenue (as of Dec. 2016).
About Novares
Mecaplast – Key Plastics rebranded as Novares on September 19th, 2017.
Novares is a global plastic solutions provider that designs and manufactures complex components & systems serving the future of the automotive industry. Novares creates and produces cutting edge automotive parts, specializes in technical plastic injection that contributes to cleaner, lighter, more connected, user-friendly cars.
Novares provides engineering and manufacturing expertise to virtually every OEM and many Tier-1 companies in the automotive market. In 2016, Novares generated adjusted revenues of 1.2 billion euros¹.
Headquartered in France, the group is present in 21 countries, runs 42 manufacturing plants, 7 Skill centers, 5 Technical centers, 17 customer service centers, around the globe to partner with customers.
¹Pro forma financial information of Novares including the acquisition of Key Plastics, IFRS.